7 Spaghetti Squash Keto Recipes That You Cannot Forget
Affiliate links may be used in this post. I may receive a small commission at no extra cost to you if you make a purchase through my affiliate link. Read my full disclaimer here
---
Here is a list that is going to act as your salvation – salvation for those who crave pasta but cannot break their pact with the ketosis diet. We all know that pasta is hard to give up but I am here with a list that is going to make you feel good about yourself even without pasta in your life. Spaghetti is here for saving the day.
Spaghetti Squash Au Gratin
Here is the first alternative for pasta that is going to make you feel good about ketosis. Pasta in a keto-approved form when replaces potatoes au gratin, the result is a very low carb and a high-fat meal that will keep you going for a very long portion of the day.
When you are cutting veggies, especially cutting spaghetti squash you want to make sure that you are using quality knives.I've been using this KitchenAid knife Set for a long time, it will make the cutting of the squash so much easier.
Click here to see the full recipe
Spaghetti Squash Chicken Carbonara
Here is a spaghetti version of pasta carbonara with chicken in the mix. The texture of this meal is very similar to the real spaghetti and honestly saying, I find this recipe better tasting than pasta carbonara in its traditional way because it is not heavy on your stomach but rich for your health.
Click here to see the full recipe
Garlic Shrimp Spaghetti Squash
Here is a keto-approved lunch that is going to be enjoyed by the non-keto dieters as well. The low carb and high fat lunch is actually a very delicious meal having the scent of garlic and flavor of shrimp in the perfect amount.
Click here to see the full recipe
Skinny Beef Stroganoff  Stuffed Spaghetti Squash
When I was just getting started on the keto diet, I wish I had these easy low carb recipe collections. If you're looking for easy and simple keto recipes, I recommend you to check this Keto in Five eCookbooks, every single recipe has five ingredients or less and five net carbs or less.
👉 Click here to get the full Keto in Five collection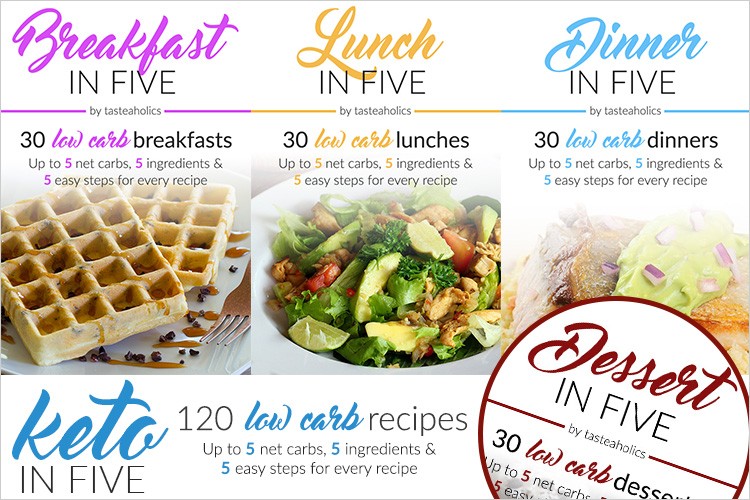 Here is a recipe that is going to go on your regular meals list for sure. Why? So many reasons are there. It has good fats. It has a sweet touch to it. Most importantly, this recipe is very easy to make and you can use it as your office lunch as well.
Click here to see the full recipe
Spaghetti Squash With Artichoke And Spinach
The amazing and powerful ingredients in this recipe like goat cheese, bacon, and spinach are quite the convincers for many. The taste of this recipe is actually one of my personal favorites because it not only feels very rich to the taste, but it also keeps you full and energized for a very long time as well.
One other plus point of this recipe is that you can invite your kids to the table and the looks of this recipe will make them fall in love with spinach and any other green you seem fit to be added to the ingredient mix.
Click here to see the full recipe
Chicken Alfredo Spaghetti Squash
Here is a recipe that is going to be one of the most favorites of your children because it is an improved version of the fettuccine alfredo. You will be actually amazed at how this version is so much better in taste and easier to make than the original one.
Click here to see the full recipe
*** Don't forget to pin this for later! ***
I have been on a keto diet for a long time and I have realized that gratification and simplicity is the main key to success with your diet. I am happy to suggest you these eBooks for the best keto result:
Dessert In Five
,
Dinner In Five
,
Lunch In Five
and
Breakfast In Five
.
Every eBook has 30 recipes. All the recipes have an average of 5g carbs and 5 ingredients at most. So you can enjoy a second meal at any time of the day and still do not exceed your carb limit. With a total 120 easy to make recipes, every recipe has the details of the nutrients included so you can eat tastily and stay informed about your carbs intake.
Click here to get the full Keto in Five e-bundle