6 Delish Keto Dessert All Made With Peanut Butter
Affiliate links may be used in this post. I may receive a small commission at no extra cost to you if you make a purchase through my affiliate link. Read my full disclaimer here
---
Peanut butter has been one of the finest and most loved ingredients in any dessert recipe. And I have 7 of these recipes. All of them, keto-approved. A cookie that melts in your mouth right away, a lava cake with keto-approved ingredients and dark chocolate cups, all are there among so many others.
Let's begin with this one of a kind keto dessert recipe list with peanut butter.
Keto Peanut Butter Cups
With an amazing shell made of sugar-free dark chocolate, you will love these peanut butter cups with very low carbs.
Their melty texture will make them worth the while and you will have the non-keto dieters also joining in at the party.
Click here for the full recipe.
Keto Peanut Butter Cookies
With a preparation time of only 5 minutes and 4 ingredients that are always available in the kitchen, these cookies are a treat for everyone. You will be happy to have them on your living room table and munch on them all day long.
The best part is that they are no-bake cookies. So even less struggle.
Click here for the full recipe.
Peanut Butter Chocolate Fat Bombs
Here is the ultimate recipe that will keep you full on your fat intake and low carbs. The taste of chocolate and ease of making these fat bombs are both a plus point of this recipe and you will be actually delighted to have them made in bulk so that you can keep up with your macros.
Amazing right?
Click here for the full recipe.
Molten Peanut Butter Lava Cake
Literally melting in your mouth the very moment you take a bite, this keto lava cake with peanut butter makes a very strong contender to be the best keto dessert recipe on the list.
Make this recipe once and you will definitely agree with this fact.
When I was just getting started on the keto diet, I wish I had these easy low carb recipe collections. If you're looking for easy and simple keto recipes, I recommend you to check this Keto in Five eCookbooks, every single recipe has five ingredients or less and five net carbs or less.
👉 Click here to get the full Keto in Five collection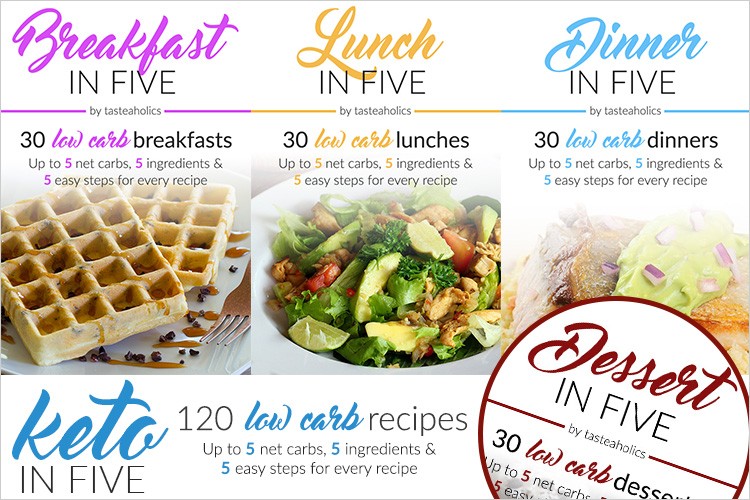 Click here for the full recipe.
Keto Peanut Butter Cheesecake
You might be amazed to see cheesecake on this list. Let me add to your amazement. This keto-approved cheesecake with the awesomeness of peanut butter is a no-bake item.
How crazy could that be?
Meaning not much of struggle in the kitchen and you can still make a sick peanut butter cheesecake in a little time.
Click here for the full recipe.
Reese's Lava Cake
Remember the keto butter cups mentioned above? Here is a rival recipe for that one and you definitely will hit the kitchen to decide the winner. With almost the same ingredients but a completely different procedure to make, you will be amazed at how the procedure can have effects on the flavor. The rich and chocolaty texture of the cups is worth dying for.
Click here for the full recipe.
Keto Peanut Butter Balls
As a final member of this one of a kind list, here is a master blaster of taste.
Having a crunchy and rich taste, these keto balls get a detailed covering of dark chocolate.
With such ingredients making up a dessert, you will definitely want to continue your ketosis diet.
Click here for the full recipe
*** Don't forget to pin this for later! ***
I have been on a keto diet for a long time and I have realized that gratification and simplicity is the main key to success with your diet. I am happy to suggest you these eBooks for the best keto result:
Dessert In Five
,
Dinner In Five
,
Lunch In Five
and
Breakfast In Five
.
Every eBook has 30 recipes. All the recipes have an average of 5g carbs and 5 ingredients at most. So you can enjoy a second meal at any time of the day and still do not exceed your carb limit. With a total 120 easy to make recipes, every recipe has the details of the nutrients included so you can eat tastily and stay informed about your carbs intake.
Click here to get the full Keto in Five e-bundle