8 Tasty Keto Mexican Recipes You Won't Believe Are Low Carb
Affiliate links may be used in this post. I may receive a small commission at no extra cost to you if you make a purchase through my affiliate link. Read my full disclaimer here
---
These Keto Mexican recipes are awesome for lunches and dinners. They make exotic Ketogenic meals. Give them a shot
Mexican delicacies are great but they are mostly filled with carbs like tacos and enchiladas.
You'll have to switch some ingredients to make these Mexican recipes keto-friendly.
The recipes below will give you the spicy flavors of Mexican cuisine minus the carbs. So it's easy to enjoy your food and remain in ketosis to maintain your weight.
Pork Rind Nachos
Calories: 240
Fat: 16.5g
Protein: 22.5g
Net Carbs: 1g
You might want Mexican food like Nachos or whatnot but you can't have them on your keto diet. Well, your problems are solved with this low carb nachos recipe that'll satisfy your wants.
By using pork rinds instead of cornflour, you get a very low carb nachos filled with healthy fats and proteins.
They taste different from regular nachos but they are just as crispy and lovable
Click here for the full recipe
Low Carb Cheese Taco Shells
Calories: 264
Fat: 20g
Protein: 17g
Net Carbs: 2g
If Nachos aren't your speed, you can try these Tacos. Tacos are pretty much the symbol of Mexican cuisine.
But the ingredients used in tacos aren't things you want in your keto diet, especially the taco shells.
Luckily for you, this recipe can make taco shells and taco meat that are keto-friendly so you can enjoy taco nights with the whole family.
Click here for the full recipe
Tex-Mex Cabbage Beef Skillet Recipe
Calories: 564
Fat: 43g
Protein: 32g
Net Carbs: 8g
This Tex Mex cabbage beef recipe is quite delicious and is very healthy, plus you can have it prepared in less than 30 minutes.
This recipe will help you and your kids eat your greens in a Mexican meal. It's also keto-friendly, so win-win.
It's a delicious combination of Mexican cheese, ground beef, and cabbage.
Click here for the full recipe
Mexican Chicken Stuffed Avocado
Calories: 407
Fat: 35.5g
Protein: 18g
Net Carbs: 2g
As you should already know, avocados can provide a great source of fat on your keto diet. But have you ever considered using them for a Mexican recipe? I'll bet it hasn't even crossed your mind.
With this recipe, you combine avocados with delicious and spicy Mexican spice with some ground beef to create a tasty meal filled with fats and proteins.
The low carb quality of this recipe will take off your weight exponentially and it tastes like regular non-diet food.
When I was just getting started on the keto diet, I wish I had these easy low carb recipe collections. If you're looking for easy and simple keto recipes, I recommend you to check this Keto in Five eCookbooks, every single recipe has five ingredients or less and five net carbs or less.
👉 Click here to get the full Keto in Five collection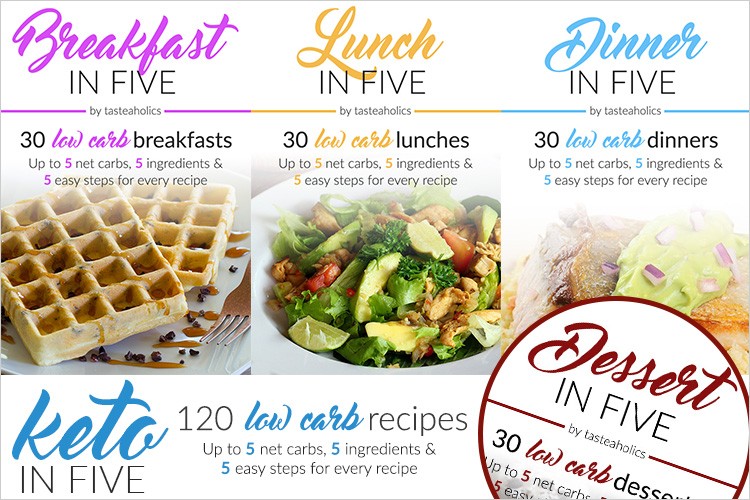 Click here for the full recipe
Keto Mexican Cauliflower Rice
Calories: 352
Fat: 22g
Protein: 29g
Net Carbs: 2g
Made with cauliflower, this Mexican rice skillet is designed to have pretty much the same taste from the original without the bad carbs from the rice.
With the Cauliflower and other greens you might decide throw-in, you and your kids get to eat your veggies especially if your kids don't like vegetables with strong flavors.
Click here for the full recipe
Sour Cream Chicken Enchilada Skillet
Calories: 351
Fat: 30g
Protein: 12g
Net Carbs: 7g
Apart from the fact that you have to give up the tortillas,  this Skillet chicken enchiladas recipe is meant to create low carb enchiladas in no time.
If you've been looking for a recipe that will deliver Mexican enchiladas, without the high carbs and the time and energy-consuming effort of rolling up the enchiladas, your search has come to an end.
Also, instead if completely forfeiting the tortillas, you could choose to make keto versions to go with this recipe (if you got time on your hands).
Click here for the full recipe
Mexican Shredded Chicken
Calories: 233
Fat: 12.5g
Protein: 28.5g
Net Carbs: 2g
This Mexican Shredded Chicken recipe is one of the best Mexican recipes ever! Problem is, it takes quite some time to make.
So it's best reserved for when you want a big elaborate and peculiar keto recipe for dinner.
If you want to be done quickly, this is not an option because it takes a lot of time.
Click here for the full recipe
Extra recipe: Keto Tortillas
Calories: 70
Fat: 5.6g
Protein: 5.1g
Net Carbs: 1g
Because tortillas go with most Mexican meals but aren't keto-friendly, I thought I'd add this recipe so you can make some keto tortillas for the recipes above.
Instead of using cornstarch, Mozzarella cheese and almond flour can make you some super low carb and healthy tortillas to go with your keto tacos or any of the above recipes on your Mexican night.
Click here for the full recipe
*** Don't forget to pin this for later! ***
I have been on a keto diet for a long time and I have realized that gratification and simplicity is the main key to success with your diet. I am happy to suggest you these eBooks for the best keto result:
Dessert In Five
,
Dinner In Five
,
Lunch In Five
and
Breakfast In Five
.
Every eBook has 30 recipes. All the recipes have an average of 5g carbs and 5 ingredients at most. So you can enjoy a second meal at any time of the day and still do not exceed your carb limit. With a total 120 easy to make recipes, every recipe has the details of the nutrients included so you can eat tastily and stay informed about your carbs intake.
Click here to get the full Keto in Five e-bundle