8 Low Carb Keto Coffees To Start Your Day
Affiliate links may be used in this post. I may receive a small commission at no extra cost to you if you make a purchase through my affiliate link. Read my full disclaimer here
---
If you are a health-conscious person and want to stay healthy, you might find it troublesome to find the perfect breakfast drink. I have compiled a list just for you with powerful coffee recipes flavored with caramel, coconut, mocha, and almond.
For a person in ketosis, it is hard as well as important to stop using sugar in coffee and the pain is understandable. Luckily, the recipes for coffees provided here today are going to free you from the agony and instead start your morning coffee with these recipes.
Let's start.
Vietnamese Keto Ice Coffee
The secret behind this amazing keto morning starter is the ground Vietnamese coffee combined with condensed milk. With around 1.7 grams of carbs, this keto coffee is a delicious way to start your ketosis morning with a blast.
Click here to see the complete recipe.
Keto Crack Coffee
This is an amazing power punch for your mornings as the coffee not only rids you of sugar use, but it also gives you an amazing amount of energy. It only has 2 grams of carbs!!
Click here to see the complete recipe.
Iced Keto Coffee
Here is a recipe that allows you to feast on coffee while still staying in ketosis. Meaning you can not only start your day with this iced coffee, but you can satisfy your craving for coffee with this one gram of carbs coffee recipe. Amazing right!!
Click here to see the complete recipe.
The Bulletproof Keto Coffee
With only about half a gram of carbs, this keto coffee is considered the universal helper in ketosis when it comes to coffee. With a great taste, this recipe also provides you the punch of coffee you need every morning.
Click here to see the complete recipe.
When I was just getting started on the keto diet, I wish I had these easy low carb recipe collections. If you're looking for easy and simple keto recipes, I recommend you to check this Keto in Five eCookbooks, every single recipe has five ingredients or less and five net carbs or less.
👉 Click here to get the full Keto in Five collection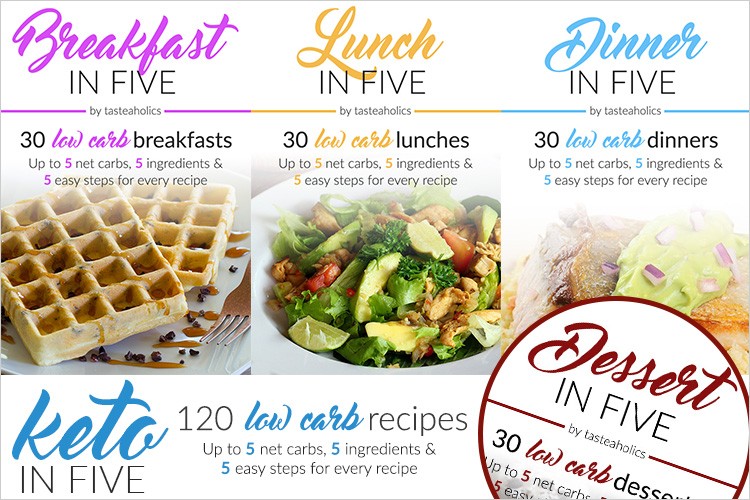 Spiced Keto Hot Mocha
If you want to make your chilly rainy days more fun by indulging in delicious coffee while maintaining your ketosis, this recipe is your superhero.
You can get this coffee with and without the spices and both the flavors have their own personal aroma and flavor. With 5.4 grams of carbs, this keto coffee has all the energy you need for an entire breakfast.
Click here to see the complete recipe.
Spiced Cappuccino With Caramel
The love for caramel cappuccino is going to be eternal and your love is also covered with ketosis in mind. This recipe has a secret ingredient which negates the normal perception that cappuccino and caramels are not for ketosis.
With zero sugar and only 1.5 grams of carbs, this recipe is a treat for coffee lovers on ketosis.
Click here to see the complete recipe.
Vanilla Latte With Low Carb Cinnamon
You will love this coffee having a vanilla latte and very low carbs. The cinnamon in the mix gives it a texture that will help you warm up your cold and chilly long nights. Vanilla and cinnamon are big contributors for making the flavor stand out while still allowing it to be ketosis approved.
This delicious and yummy keto coffee recipe has only 2 grams of carbs which means you can take it as many times as you want.
Click here to see the complete recipe.
*** Don't forget to pin this for later! ***
I have been on a keto diet for a long time and I have realized that gratification and simplicity is the main key to success with your diet. I am happy to suggest you these eBooks for the best keto result:
Dessert In Five
,
Dinner In Five
,
Lunch In Five
and
Breakfast In Five
.
Every eBook has 30 recipes. All the recipes have an average of 5g carbs and 5 ingredients at most. So you can enjoy a second meal at any time of the day and still do not exceed your carb limit. With a total 120 easy to make recipes, every recipe has the details of the nutrients included so you can eat tastily and stay informed about your carbs intake.
Click here to get the full Keto in Five e-bundle