8 Keto Cocktails To Enjoy Without Breaking Your Keto Diet
Affiliate links may be used in this post. I may receive a small commission at no extra cost to you if you make a purchase through my affiliate link. Read my full disclaimer here
---
Cocktails are the best way to enjoy the summer and make your holidays worthwhile. While some people might think that their ketogenic diets will not allow them to enjoy their vacations, there are others who keep a check over the internet to find the best alternatives for the famous vacation meals and beverages that are keto-approved and easy on the taste buds.
I am here with a list of 7 very tasty cocktails that are entirely keto-approved and can be enjoyed at any time of the year.
Keto Mojito
The famous summer beverage that rules all others – mojito is originally a high carb drink which is a no-no for people under ketosis because of the sugar and rum.
In order to make the best alternative for mojito that is the keto mojito, you will need to replace the rum with vodka, and use lime and fresh mint like the regular drink. I am not mentioning any sugar!
The remaining recipe is the same and so is the taste of the drink. Enjoy your keto mojito.
Click here for the full recipe.
Keto Raspberry Cream Mimosas
Raspberries are low calories fruits that play a vital role in this drink. Originally there is some sugar in the drink and is not ketosis-approved by if you mix dry champagne with whipped raspberry and keep the rest of the recipe as it is.
The best thing about this recipe is that the flavor does not change a bit and in fact, it gets improved because the extra sweetness of the drink is replaced with just the right amount.
Click here for the full recipe.
Margarita With Zero Carbs And Zero Sugar
Here is a drink that I will never say no to. You can pair this drink with so many different things that you can call it a universal cocktail. You can enjoy it with a number of keto-approved meals and you will not be sad to do so.
With ingredients like orange extracts, lime juice, and sugar replacements, the drink is a complete all-rounder.
Click here for the full recipe.
Sex On The Beach (Low Carb)
When I was just getting started on the keto diet, I wish I had these easy low carb recipe collections. If you're looking for easy and simple keto recipes, I recommend you to check this Keto in Five eCookbooks, every single recipe has five ingredients or less and five net carbs or less.
👉 Click here to get the full Keto in Five collection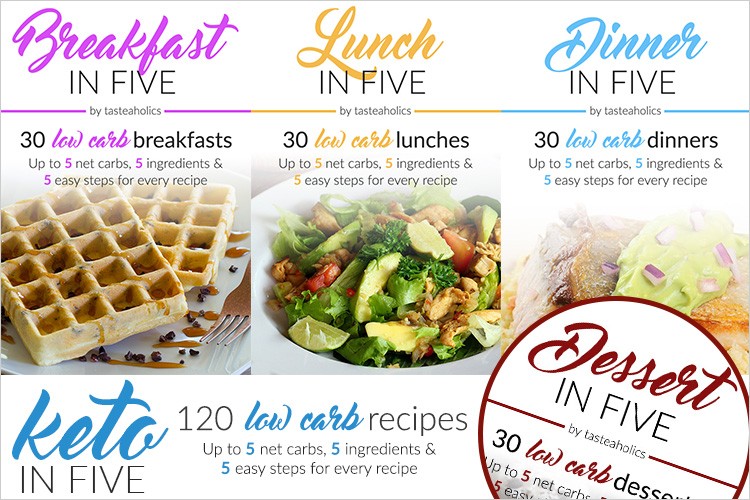 An amazing cocktail for all the people under ketosis – sex on the beach allows you to indulge in a flavor burst as vodka gives the base to this keto-approved beverage that has a super tangy touch and an explosion of fruit flavors in your mouth. With no carbs, you can freely offer this drink to anyone around and they all will definitely love it.
Click here for the full recipe.
Low Carb Raspberry Sangria
We have come a long way from margaritas to mojitos and to mimosas. Now its time for some all-time favorite sangria. The amazing punch of this delicious and refreshing ingredient in any drink and meal has a unique texture to it.
With raspberries mixed with ingredients, you can expect sangria to do its magic for this low carb drink. Making this drink is easier than it seems and the taste and refreshing feeling that it offers is totally worth it. Do give it a try in your vacations and expect people to ask you for this amazing recipe.
Click here for the full recipe.
Skinny Frozen Margarita
You need a strong blender and a good supply of ice cubes because crushed ice is the second main ingredient of this love-filled drink for the long summer days. You will be amazed to know that this drink is actually keto-approved as well as paleo-approved. You will get a low carb creamy margarita in no time.
click here for the full recipe.
Keto Caribbean Rum Punch
With lime juice, diet sprite, Captain Morgan and having rum as the main ingredient – this Caribbean themed drink is going to swipe you off your feet. That is why I have kept it for the last. It has a great flavor, only a single gram of carbs and it covers that rum punch which everyone likes in their regular drinks.
Click here for the full recipe.
*** Don't forget to pin this for later! ***
I have been on a keto diet for a long time and I have realized that gratification and simplicity is the main key to success with your diet. I am happy to suggest you these eBooks for the best keto result:
Dessert In Five
,
Dinner In Five
,
Lunch In Five
and
Breakfast In Five
.
Every eBook has 30 recipes. All the recipes have an average of 5g carbs and 5 ingredients at most. So you can enjoy a second meal at any time of the day and still do not exceed your carb limit. With a total 120 easy to make recipes, every recipe has the details of the nutrients included so you can eat tastily and stay informed about your carbs intake.
Click here to get the full Keto in Five e-bundle