8 Love Filled Ketogenic Bacon Recipes
Affiliate links may be used in this post. I may receive a small commission at no extra cost to you if you make a purchase through my affiliate link. Read my full disclaimer here
---
Bacon has been one of the most favorite items in American cuisine and if cooked with ingredients that make it a keto recipe, you can expect miracles of meals to happen all over the place.
My love for bacon keeps growing with time and it has every right to do so. Although there was a time
when I limited my bacon intake as it was declared not to be healthy for consumption but deep inside, I missed bacon.
However, bacon lovers had the news of their lives when research nullified bacon to be unhealthy. In
fact, it turned out to be a ketogenic ingredient and can be used regularly like in the past.
Here are some amazingly easy and delicious ketogenic recipes revolving around bacon for your everyday
life. It is totally up to you if you want to add them to your regular diet or make them occasionally whenever your love for bacon raises.
Let's get started and see these mouth-watering low on carbs recipes.
Bacon Wrapped Cheese Sticks
This recipe combines cheese and bacon. Amazing ingredients indulge with each other and can be ready
to serve within a couple of minutes only.
Bacon wrapping up the amazing gooey texture of melted cheese turns out to be a delicious solution for
a protein-rich recipe.
With zero carbs, you can feast on this quick recipe over and over again.
Click here for the full recipe.
Keto Bacon Cheeseburger Casserole
Here is the hamburger of your dreams. It's healthy, it's deliciously rich and amazingly simple to make. It
combines vitamin and mineral-rich cauliflower with cheeseburger casserole and bacon.
The hamburger will allow you to cherish your love for traditional cheeseburgers in an even more
a delicious and healthier way.
This recipe covers everything. It is like a delicious easy DIY project with amazing dietary benefits.
Click here for the full recipe
Bacon & Egg Fat Bombs
Do you like to munch on something all the time? Do you love bacon? Do you want to have a healthy
ketogenic diet? Well, do not worry at all. Here is a simple and easy solution for all your problems and it's
very delicious as well.
Made from combining fat-filled eggs and protein-filled bacon – these fat-filled balls are a perfect meal
for munching fans while they enjoy a movie or just moving around in the house. A wonderful recipe to
keep your ketosis mature and your life a healthy one.
Click here for the full recipe
BBQ Bacon Cheddar Meatloaf
When I was just getting started on the keto diet, I wish I had these easy low carb recipe collections. If you're looking for easy and simple keto recipes, I recommend you to check this Keto in Five eCookbooks, every single recipe has five ingredients or less and five net carbs or less.
👉 Click here to get the full Keto in Five collection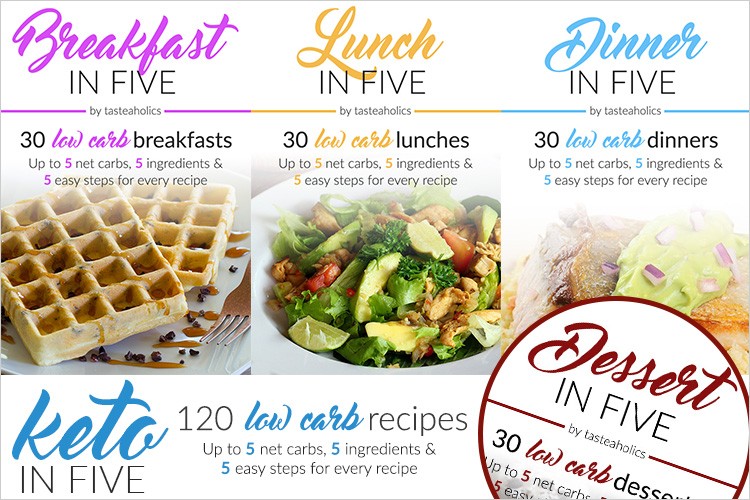 This amazingly and surprisingly easy to make recipe has the most delicious and ketogenic ingredients.
With ground meat, BBQ sauce, cheddar cheese, and bacon, you can get yourself an oozing recipe in
under 5 minutes!
Click here for the full recipe.
Keto Chili With Bacon
It is an undeniable fact that some people are not fond of chili and its burst of flavor. Here is a recipe that
will help all the wives out there make their husbands develop cravings for this keto diet with different
chili types and bacon.
A rich combination of tomatoes, bell peppers and jalapenos is impossible to resist and very tasty for a
regular and healthy ketogenic meal.
Click here for the full recipe
Cauliflower Bacon Gratin
Gratin is something mostly connected to potatoes and potatoes – you can't have as a ketogenic diet.
Sad? Don't be. Here is a magical alternative for this lack and absolutely filled with health oozing with
flavor.
Cauliflower has turned out to be a delightful alternative for potatoes and it will trick your little ones into
diving into it if this healthy vegetable is combined with some crispy cheese toppings over melted cheese
and fresh bacon. The protein and keto ratings are through the roof for this recipe and it's an effective
way to invite your kids to eat vegetables as well.
You can have the happiness of seeing your children eat vegetables and also enjoy the priceless looks on
their faces when they discover that what they have eaten through is actually cauliflower – a vegetable!
Click here for the full recipe.
Creamy Garlic Parmesan Mushroom Chicken & Bacon
Here is a recipe that will give a dinner that will be both keto-approved and a memorable one as well.
Your guests will love all the hard work and time you put in the kitchen while making dinner. The recipe revolves around juicy chicken thighs, a sauce made of creamy garlic parmesan and mushrooms, and to top it off crispy bacon is there with the chicken thighs.
Everyone can join in on this dinner as it entertains keto dieters along with the non-keto ones.
Click here for the full recipe.
*** Don't forget to pin this for later! ***
I have been on a keto diet for a long time and I have realized that gratification and simplicity is the main key to success with your diet. I am happy to suggest you these eBooks for the best keto result:
Dessert In Five
,
Dinner In Five
,
Lunch In Five
and
Breakfast In Five
.
Every eBook has 30 recipes. All the recipes have an average of 5g carbs and 5 ingredients at most. So you can enjoy a second meal at any time of the day and still do not exceed your carb limit. With a total 120 easy to make recipes, every recipe has the details of the nutrients included so you can eat tastily and stay informed about your carbs intake.
Click here to get the full Keto in Five e-bundle