9 Keto Vegetarian Recipes You Can Make For Dinners or Lunch
Affiliate links may be used in this post. I may receive a small commission at no extra cost to you if you make a purchase through my affiliate link. Read my full disclaimer here
---
Vegetables are a great source of energy and a healthy diet. However, ketosis is mainly comprised of meat involving recipes that can be sometimes a bummer for vegetarians. Today I have got a list that has a lot of amazing keto-approved recipes having vegetables as the main source of flavor and energy. I am pretty sure you will be happy to learn and you can also adapt them even if you are not a vegetarian.
Let's not waste any more time and get right to the list.
Portobello Mushroom Margherita Pizzas
This is a pizza that every vegetarian will fall in love with. It has those flavor bursts of oregano (dry), fresh garlic, tomatoes, and some fat-filled energy-rich mozzarella cheese. This keto-approved pizza is actually perfect for both keto lovers and non-keto dieters.
Click here for the full recipe.
Low Carb Cauliflower Creamed Spinach
Mostly, flour is included in creamed spinach recipes. Due to flour, keto dieters cannot enjoy spinach. However, this recipe is going to end that problem and allow you to devour the soothing texture of creamed spinach in a keto-approved manner.
Click here for the full recipe.
Zucchini Parmesan Chips
Get ready to have a burst of flavor from the melting cheese in your mouth. Add a little zucchini flavor to that and you have got yourself a seat in the vegetable heaven.
Do I need to say more? Just click here for the full recipe.
Click here for the full recipe.
French Onion Zoodle Bake
When I was just getting started on the keto diet, I wish I had these easy low carb recipe collections. If you're looking for easy and simple keto recipes, I recommend you to check this Keto in Five eCookbooks, every single recipe has five ingredients or less and five net carbs or less.
👉 Click here to get the full Keto in Five collection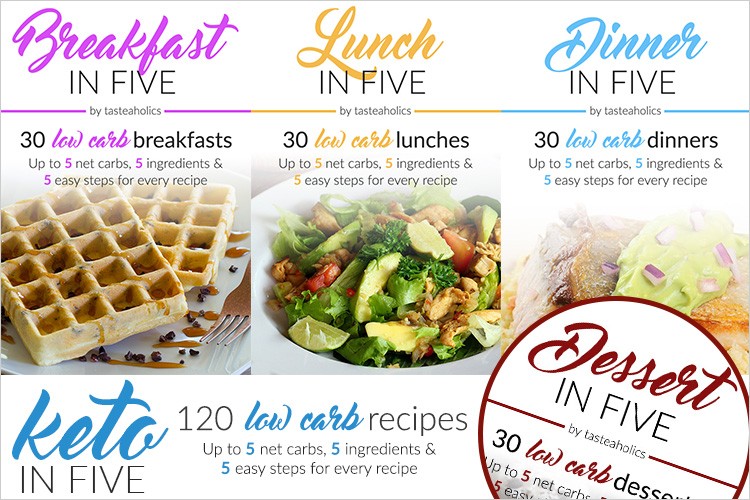 Are you looking for a soup like the french onion soup that can go on your keto-approved diet? Well here is the exact recipe that not only fulfills your criteria but also allows you to discover a new flavor continent. Low carb vegetables with rich soupy texture involving delightful zucchini – this recipe can have a slot on your regular keto-approved diets for sure.
Click here for the full recipe.
Mexican Cauliflower Rice
Here is a recipe that can intrigue your whole family and kids to eat a keto-approved diet without even knowing it. With cauliflower as the main star of the show, you do not have to worry about any bad carbs to enter your body.
Click here for the full recipe.
Cauliflower Mac and Cheese
If you are a keto dieter who is a fan of pasta and vegetable at the same time, this recipe is going to be your favorite. Filled with fat and lacking the bad carbs, you can enjoy a cheesy and veggie casserole that you and children will end up licking your fingers.
Click here for the full recipe.
Jalapeno Cheese Crisps
This recipe can be made once and then consumed multiple times. With parmesan and jalapeno joining other keto-approved ingredients, these crisps offer quite a good amount of fats with extremely low carbs (about 0.25 gram per crisp). This snack can make your boring nights go by with peace.
Click here for the full recipe.
I have been on a keto diet for a long time and I have realized that gratification and simplicity is the main key to success with your diet. I am happy to suggest you these eBooks for the best keto result:
Dessert In Five
,
Dinner In Five
,
Lunch In Five
and
Breakfast In Five
.
Every eBook has 30 recipes. All the recipes have an average of 5g carbs and 5 ingredients at most. So you can enjoy a second meal at any time of the day and still do not exceed your carb limit. With a total 120 easy to make recipes, every recipe has the details of the nutrients included so you can eat tastily and stay informed about your carbs intake.
Click here to get the full Keto in Five e-bundle