7 Easy And Delicious Keto Sushi Dishes You Can Ever Have
Affiliate links may be used in this post. I may receive a small commission at no extra cost to you if you make a purchase through my affiliate link. Read my full disclaimer here
---
Japan has made a mark in the cooking universe with its sushi. You would be surprised to know that there is a complete university for sushi. Still, sushi was not keto-approved for a very long time.
That stops today. I have compiled a list of sushi recipes that will satiate your long cravings for sushi and allow you to express your love for sushi in your kitchen.
Let's not waste any more time and get right to the list.
Cauliflower Keto Sushi
Here is a sushi roll recipe that is almost similar to traditional sushi. The only different ingredient is the chopped cauliflower instead of the rice.
You might want to have a steady hand while rolling them up to have the exact texture. Otherwise, it is pretty easy to make.
Click here for the full recipe.
Salmon rolls with avocado and horseradish cream
Here is a sushi recipe that will increase your knowledge about sushi along with a wonderful taste discovery. You don't need any rice or cauliflower for it. What you need is already in your kitchen. Cream cheese, avocadoes, and some smoked salmon among a few other keto-approved ingredients will make awesome sushi for you.
Click here for the full recipe.
Bacon Lettuce And Tomato Sushi (BLT)
Here is a more westernized version of this Japanese cuisine with a touch of some bacon, tomatoes, and leaves of lettuce. Some other keto-approved ingredients containing romaine as one of them, have made this sushi a very desirable one.
Click here for the full recipe.
Keto Sushi California Rolls
When I was just getting started on the keto diet, I wish I had these easy low carb recipe collections. If you're looking for easy and simple keto recipes, I recommend you to check this Keto in Five eCookbooks, every single recipe has five ingredients or less and five net carbs or less.
👉 Click here to get the full Keto in Five collection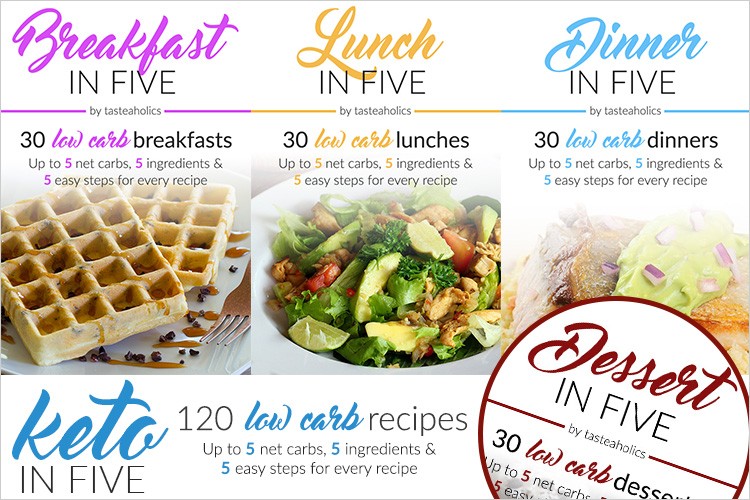 California rolls have made a well-deserving impact on the sushi market. I am here to make that recipe keto-approved for all the sushi lovers. Having an addition of cauliflower rice and removing a few ingredients from the original recipe, you can enjoy this sushi instantly. Low on carbs and high on fat and flavor, you will be thankful to god for this recipe.
Click here for the full recipe.
Sushi Burritos
Some of the sushi recipes might want some of your time in the kitchen. This is one recipe that does not require much time and you can make them almost instantly. By making certain replacements in the ingredients, you can enjoy these burrito cum sushi rolls and feel as if you are having lunch in a Japanese hotel. It is that much authentic.
Click here for the full recipe.
Vegan Rainbow Sushi
As the name suggests, this is a treat for our vegetarian friends. These rolls are a little more detailed than the traditional version that has avocado, cucumber, and rice. So you can expect new flavors in your mouth which will be a delight in itself.
Click here for the full recipe.
Bacon Avocado Cucumber Sushi Rolls
This sushi recipe is so delightful and tasty that I just couldn't stop myself from having it on the list. It is a non-keto recipe but the flavor is just that good. Although you can still make some modifications to get a little converged to ketosis by replacing rice with cream cheese and cauliflower.
This recipe still has no carbs and you can make little adjustments to make it fully keto-approved.
Click here for the full recipe.
I have been on a keto diet for a long time and I have realized that gratification and simplicity is the main key to success with your diet. I am happy to suggest you these eBooks for the best keto result:
Dessert In Five
,
Dinner In Five
,
Lunch In Five
and
Breakfast In Five
.
Every eBook has 30 recipes. All the recipes have an average of 5g carbs and 5 ingredients at most. So you can enjoy a second meal at any time of the day and still do not exceed your carb limit. With a total 120 easy to make recipes, every recipe has the details of the nutrients included so you can eat tastily and stay informed about your carbs intake.
Click here to get the full Keto in Five e-bundle