9 Keto Sausage Recipes To Stay Healthy On Ketosis
Affiliate links may be used in this post. I may receive a small commission at no extra cost to you if you make a purchase through my affiliate link. Read my full disclaimer here
---
Check out these keto sausage recipes. You're gonna love them like a gift from God Himself!
What packs a protein punch and brings back childhood memories? Obviously, a sausage! Let's tell the truth, every kid loved sausages (especially in hot dogs).
But now, as adults, we tend to dodge them because we assume that they are bad for our health. That's true to a certain point, but consuming sensible amounts is worth it.
You'll love sausages if you're looking for something to switch with poultry and other meat on your keto diet. Here are a few keto-friendly sausage recipes, enjoy!
Super Easy Stuffed Sausage Recipe
Calories: 577
Fat: 48g
Proteins: 25g
Net Carbs: 3g
If you need a nice keto recipe for dinner, then your search stops here. Within a mere 2 minutes (cooking time not included) you can prepare these awesome stuffed sausages.
One great perk is that no special ingredients are required. Just sausages, cheese, and some tomato sauce. Simple right?
Sausage Egg Roll in a Bowl
Calories: 412
Fat: 33g
Protein: 19g
Net Carbs: 8g
After using this recipe, I guarantee you will agree that ground pork sausages are magnificent.
This recipe is a combo of sausages, green onions, eggs, and lots of other veggies. Its taste is remarkable and can be prepared in a total of 20 minutes.
Click here for the full recipe
Keto Sausage Balls
Calories: 363
Fat: 30g
Protein: 19g
Net Carbs: 3g
Everyone knows meatballs, right? But have you heard about sausage balls? Well, they taste as unbelievable as they sound.
You can use them at a family dinner and no one would bat an eyelash over it being low in carbs.
Click here for the full recipe
Low Carb Cheesy Spicy Sausage Stuffed Mushrooms
Calories: 192
Fat: 16.5g
Proteins: 7.8g
Net Carbs: 4.3g
With this recipe, your sausage dreams are bound to come true. Get it right and you'll have the perfect combination of mushrooms, cheese, and hot spices.
When I was just getting started on the keto diet, I wish I had these easy low carb recipe collections. If you're looking for easy and simple keto recipes, I recommend you to check this Keto in Five eCookbooks, every single recipe has five ingredients or less and five net carbs or less.
👉 Click here to get the full Keto in Five collection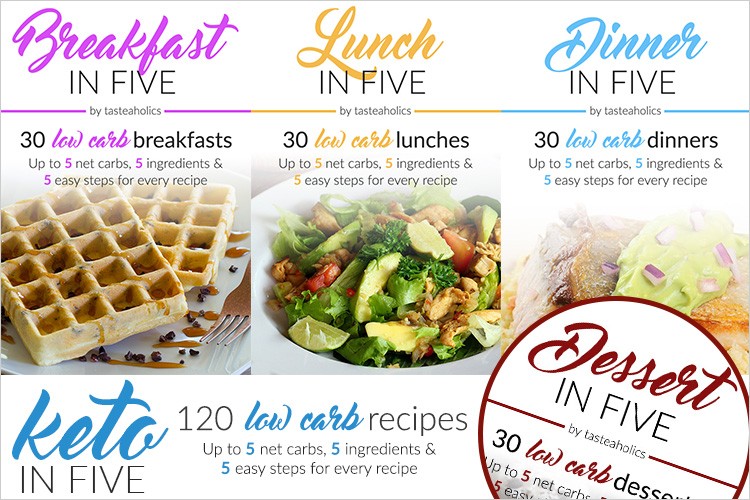 And surprisingly, it's a very low carb recipe, lucky you! On top of that, the sausages are filled with cheese and mushrooms, sounds great right?
Click here for the full recipe
Keto Breakfast Pepper Rings & Sausages
Full recipe here
Calories: 483
Fat: 40g
Proteins: 25g
Net Carbs: 5g
This keto recipe will come in handy for moms in the kitchen. Keeping kids away from sugar and syrup can be quite a difficult task
Now, the kids will be the ones begging for more with this low carb pepper rings
And they also taste magnificent; exciting and fun. The ingredients used include sausage, eggs, and pepper rings.
Click here for the full recipe
Vegetables, Cheese, Sausage & Bacon Soup
Calories: 427
Fat: 37g
Proteins: 17g
Net Carbs: 5g
If it's getting cold out, you would probably want to have some soup. This delicious sausage soup recipe is keto-friendly, just for you.
This soup is made with sausages, cheese, bacon, and some broccoli and cauliflower to get in your greens.
Click here for the full recipe
Fat Head Sausage Rolls
Calories: 470
Fat: 39.1g
Proteins: 26g
Net Carbs: 3.6g
Now you can make keto sausage rills with fathead dough using this recipe. Much Better, than cheating on your diet and making regular sausage rolls with wheat flour.
Your kids will adore these and you can throw them in during a party.
Click here for the full recipe
*** Don't forget to pin this for later! ***
I have been on a keto diet for a long time and I have realized that gratification and simplicity is the main key to success with your diet. I am happy to suggest you these eBooks for the best keto result:
Dessert In Five
,
Dinner In Five
,
Lunch In Five
and
Breakfast In Five
.
Every eBook has 30 recipes. All the recipes have an average of 5g carbs and 5 ingredients at most. So you can enjoy a second meal at any time of the day and still do not exceed your carb limit. With a total 120 easy to make recipes, every recipe has the details of the nutrients included so you can eat tastily and stay informed about your carbs intake.
Click here to get the full Keto in Five e-bundle