9 Delicious Keto Salmon Recipes Packed With Protein and Fats
Affiliate links may be used in this post. I may receive a small commission at no extra cost to you if you make a purchase through my affiliate link. Read my full disclaimer here
---
 Here are some healthy keto salmon recipes. Grilled, baked or even in a salad, you would want to have some of these keto dinner recipes with salmon.
As you should know, salmon is filled with omega-3s and it is an easy meal to cook. These features make it an excellent choice on the keto diet.
Salmon is a great way to make sure that you eat a lot of fats and protein without taking in unhealthy carbs
Getting bored with eating the same food repeatedly is the first stage in giving up on your diet, so I always recommend that you try out many different recipes.
Pan-Seared Salmon with Creamy Avocado Sauce
This recipe is perfect for your keto diet. Surprisingly, Avocado sauce goes so well with salmon and the cream and olive oil help to thin the sauce and providing healthy fats.
After the oils, fresh basil should be added to give a balanced, fresh and delicious taste. It'll taste a little like a pesto sauce.
P.S. Make sure you make the sauce as soon as possible. The recipe tastes better if the sauce sinks into it.
Click here for the full recipe
Oven Roasted Parmesan Mayo Salmon
This salmon recipe is so easy to make! Just get some mayonnaise, parmesan cheese, and a hot oven and you get a soft buttery fish with blends of flavor.
This recipe is for when you're in a hurry or you just don't feel like cooking.
The mayonnaise used in this recipe is less thick than regular mayo because whole eggs are used instead of just the yolks. This version is much healthier and is packed with protein.
Additionally, you can fine-tune the taste of the mayonnaise by using different oils and acids(vinegar, lemon or lime, etc) or by adding herbs and spices.
Exploring the different combinations of ingredients to make this low carb salmon meal should be tons of fun.
Click here for the full recipe
Salmon with Lemon Garlic Cream Sauce
This is a delicious creamy salmon dinner that you can get ready in less than 20 minutes.
This salmon recipe requires very few ingredients. You can use only one skillet if you want to reduce your dishwashing time later. The delicious lemon garlic sauce gives this meal a fancy finish.
Click here for the full recipe
Creamy Garlic Butter Tuscan Salmon
When I was just getting started on the keto diet, I wish I had these easy low carb recipe collections. If you're looking for easy and simple keto recipes, I recommend you to check this Keto in Five eCookbooks, every single recipe has five ingredients or less and five net carbs or less.
👉 Click here to get the full Keto in Five collection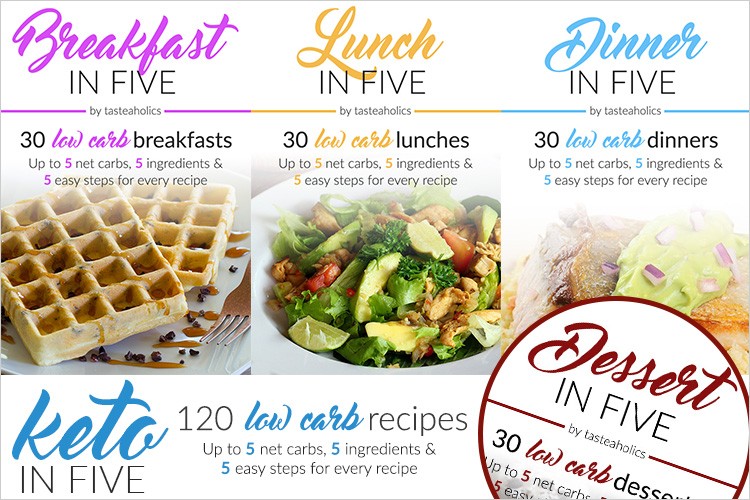 Here's a delicious creamy Tuscan salmon recipe that is filled with spinach, parmesan cheese, and dried tomatoes. You'll feel like you're in a restaurant when you have this meal.
It has a creamy and crispy feel outside and it's juicy and tender on the inside. Your whole family will love it and it's one of the few meals with fish that your kids would be willing to have over and over again.
Click here for the full recipe
Baked Salmon with Coconut Red Curry Sauce
This is a simple keto salmon meal with red curry sauce over sautéed spinach.you can make this one in less than 30 minutes and you should have it with some low carb cauliflower rice.
Click here for the full recipe
Asparagus, Lemon, and Basil Ricotta Stuffed Salmon Rolls
If you like asparagus but you can't think of any nee ways to prepare them then these salmon rolls are what you're looking for.
They're delicious and fancy. They have the bonus of containing keto-friendly Veggies that you'll want to have repeatedly.
Nothing compares with salmon ad asparagus mixed in cheese, basil and lemon zest. It tastes like it's form heaven
Remember, you have to get rid of the cornstarch in this recipe. It's the only ingredient that is high in carbs and against the keto diet.
Click here for the full recipe
Easy Keto Salmon Cakes
If you're in a hurry, these keto salmon cakes are here for you. It only takes about 15 minutes to get ready and they can be. Refrigerated to be eaten over and over for a prep meal.
The avocado cream makes the cake juicier and moist and it also provides healthy fats(as expected of avocados)
Click here for the full recipe
*** Don't forget to pin this for later! ***
I have been on a keto diet for a long time and I have realized that gratification and simplicity is the main key to success with your diet. I am happy to suggest you these eBooks for the best keto result:
Dessert In Five
,
Dinner In Five
,
Lunch In Five
and
Breakfast In Five
.
Every eBook has 30 recipes. All the recipes have an average of 5g carbs and 5 ingredients at most. So you can enjoy a second meal at any time of the day and still do not exceed your carb limit. With a total 120 easy to make recipes, every recipe has the details of the nutrients included so you can eat tastily and stay informed about your carbs intake.
Click here to get the full Keto in Five e-bundle