8 Keto Quiches That'll Blow Your Taste Buds Away
Affiliate links may be used in this post. I may receive a small commission at no extra cost to you if you make a purchase through my affiliate link. Read my full disclaimer here
---
The quiche recipes in this article are not only keto-friendly; they're low carb and will make your taste buds shrivel in joy. Crustless, Lorraine, sausage, bacon and more keto quiches can be found right here in this article.
Quiches are among the easiest meals to prepare and they are still one of the best tasting ones. They're a real lifesaver.
You can either make a crustless keto quiche or use low carb flours to have the perfect keto crust, depending on your preferences.
The recipes in the article below are super easy to make and are vastly different from one another. This will give you quite a handful of recipes to add to your diet.
Avocado Bacon Crustless Quiche
On a keto diet, there are no substitutes for avocado and bacon. Now just add some eggs, milk, mozzarella cheese and you're done!
Now you have a great crustless keto quiche that will be enjoyed by your entire family and you'll forget about the old days of high carb quiches.
You can easily make this recipe and in a very short amount of time. You'll love this one for sure.
Click here for the full recipe
Crustless Ham and Cheese Quiche
Ham & Cheese is probably the most classic quiche recipe on the planet. Luckily, you can now make a keto-friendly version of it.
This recipe is somewhat basic, but you'll get a great deal out of it. Whether or not you have the time to cook, you should try this quiche recipe regularly.
A nice twist is that, even though the recipe is very simple, kids adore it. They'll be jumping up and down about how delicious it was. So why should you spend all that time in the kitchen when just a few minutes will get you what you want.
Click here for the full recipe
Crustless Spinach Bacon Quiche
Well, this recipe won't exactly sit with all your family members, I mean whose kids like spinach huh? But you might find yourself liking this one so you can make it for just yourself.
The spinach tastes great with the bacon and the eggs. Plus it only has 4g net of carbs with 20g and 26g of protein and fats, respectively, per serving. So this recipe is pretty much a win-win.
It's also a nice way to enjoy eating your veggies. After all, we sometimes forget about to have our greens but they should always be on our plate whether you're on the keto diet or not.
Click here for the full recipe
Black & Blue Hamburger Pie
Does anyone there like blue cheese? Okay, what about hamburgers? Well, lucky you! We have just what you need!
The strong flavor of this blue hamburger pie will completely overwhelm you and your taste buds. Plus this particular keto quiche has about 38g of fat, 29g of protein and only 3.5g net carbs?
When I was just getting started on the keto diet, I wish I had these easy low carb recipe collections. If you're looking for easy and simple keto recipes, I recommend you to check this Keto in Five eCookbooks, every single recipe has five ingredients or less and five net carbs or less.
👉 Click here to get the full Keto in Five collection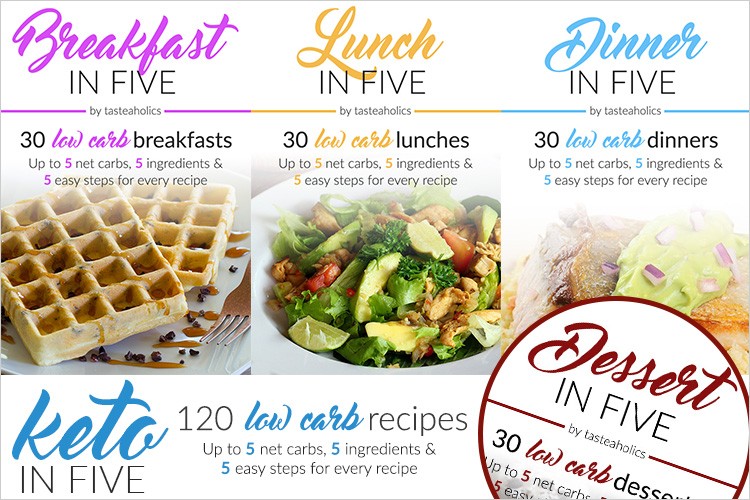 Click here for the full recipe
Brie and Bacon Quiche
As far as these recipes go, there are two types of people in the world: people who can eat blue cheese and those who can't. And even among those who can't, there are people who eat brie cheese.
And then again some eat both blue cheese and brie cheese. I mean, can you ever have too much cheese?
This recipe gives a perfectly soft and creamy quiche.  It has a taste that I enhanced by Bacon and the brie cheese.
This recipe is for you if you're not too fond of blue cheese or if you have family members that don't like it. You can also make this if you just want another cheesy quiche recipe that's ketogenic.
NB: Make sure to use a keto crust for this recipe
Click here for the full recipe
Spinach & Mushroom Crustless Quiche
Another cheesy recipe, but this time cheese plays a somewhat secondary role
This particular quiche is perfect if you want a change. Now you can eat good veggies and still feel like you're eating something else other than eggs and cheese.
The mushrooms give the recipe a great texture and also boost the flavor of spinach and cheese.
On top of all that, it's a budget-friendly meal. So use this if you're looking for cheap keto recipes for lunch or dinner.
Click here for the full recipe
Keto Quiche Lorraine
The Keto Quiche Lorraine is a famous quiche recipe around the world. Why? It's simply delicious!
It has a buttery crust with a delicious custard feeling that will make you forget about the traditional quiche Lorraine, plus, your family will adore this one. Your kids especially, they'll be huge fans of this one.
Click here for the full recipe
*** Don't forget to pin this for later! ***
I have been on a keto diet for a long time and I have realized that gratification and simplicity is the main key to success with your diet. I am happy to suggest you these eBooks for the best keto result:
Dessert In Five
,
Dinner In Five
,
Lunch In Five
and
Breakfast In Five
.
Every eBook has 30 recipes. All the recipes have an average of 5g carbs and 5 ingredients at most. So you can enjoy a second meal at any time of the day and still do not exceed your carb limit. With a total 120 easy to make recipes, every recipe has the details of the nutrients included so you can eat tastily and stay informed about your carbs intake.
Click here to get the full Keto in Five e-bundle