20 Awesome Keto Lunch Ideas For work
Affiliate links may be used in this post. I may receive a small commission at no extra cost to you if you make a purchase through my affiliate link. Read my full disclaimer here
---
Its a know fact that lunch is by far the hardest meal to plan and prepare. This becomes more of a challenge if you're on a diet because you can't just walk into a restaurant or cafe to get something good.
On the keto diet, preparing meals especially lunch is unbearable!. You have to count your daily carb intake and make sure that everything you eat is below your net carb intake. You can't do this if you don't know what kind of meal you are going to eat beforehand.
To curb this you'll need to make sure that you prep your meals sometime before you actually eat them.
In this article, ill be giving you 20 keto lunch recipes for work. They are all keto-friendly, easy to pack to work and will stay over a couple of days. These are good quality meal prep containers that you can use to pack them up.
On each recipe, I've included the Marcos. With this, you can know exactly how much of each nutrient you're consuming. The carb, fat, protein and even the calorie count are included.
Now it's time for what you've been waiting for.
Taco Salad with Ground Beef
There is really no better substitute for a salad, especially one that has little bits of meat sprinkled around it. And this one is easy to prepare and pack for lunch.
This is the meal you can count on when you don't really have the time to prep for your lunch at work. The recipe uses beef, lettuce, and some cheddar cheese.
You can add a little bit of taco seasoning and some sour cream to spice it up and give it a refined taste. And since this is a salad, it wouldn't hurt for you to change the recipe a little by opting for other keto-friendly ingredients.
Per Serving:
Calories: 332
Fats: 25g
Net Carbs: 5g
Protein: 20g
Click here to see the full recipe
Chicken Cucumber Avocado Salad
This recipe goes out to all the chicken lovers out there
This salad is quite easy to prepare. And it has a lot of healthy fats and protein in the avocados that really help in a keto diet. This salad is so good that you can even choose not to add the chicken.
On those busy days when you don't want meat for lunch, you could just remove the chicken out of the picture. The salad will still taste excellent and you'll be getting your essentials
Take into consideration that the chicken is the main source of protein in this recipe so if you want to forgo it, you should find a suitable substitute.
Per Serving:
Calories: 545
Fats: 38g
Net Carbs: 5g
Protein: 40g
Click here to see the full recipe
Deli Snack Box
This little snack box should be reserved for when you have absolutely no time to prep for lunch.
Just get some smoked meat and cut them up quickly. Mix it up with the cheese and add some extra vegetables.
You can choose to add some cherries or tomatoes to get some extra flavor. You can have some crackers with this recipe but if you insist on cutting down your carbs, you should leave out the crackers.
Per Serving (with Crackers):
Calories: 382
Fats: 25g
Net Carbs: 13g
Protein: 23g
Click here to see the full recipe
Cauliflower Fried Rice
If you're always working long hours then this is the recipe for you. You can make a lot of it, prep in and have it for lunch throughout the week
Plus, it takes about 30 minutes to prepare it. So if you're cooking a lot, you can get a whole week's worth in an hour.
That's how you manage time. S6unce it's not real rice, you don't have to wait all that time for it to get ready.
This one is for the fans of cauliflower and the people who prefer easier meals. But don't eat too much of this because it'll take you over your carb limit.
Per Serving:
Calories: 99
Fats: 4g
Net Carbs: 6g
Protein: 8g
Click here to see the full recipe
Vegetarian Lettuce Wraps
If you're one of the people who loves having greens all the time then you'll particularly love this recipe. They taste as good as they look!
You can use this recipe to get your kids and picky eaters to have more greens without them feeling like they're being fed "grass"
Also, if you suffer from indigestion, and you feel bloated all the time, this lunch is for you because it packs 14g of fiber.
Per Serving:
Calories: 194
Fats: 9g
Net Carbs: 2g
Protein: 16g
Click here to see the full recipe
Cauliflower Salad with Grilled Chicken
Grilled chicken with salad is an easy meal to prepare and it's one of the few meals that you can have in and outside a keto diet.
The salad dressing in this recipe is what gives it it's impeccable taste.
Per quarter of the whole meal prep:
Calories: 448
Fats: 41.05g
Net Carbs: 2g
Protein: 14.6g
Click here to see the full recipe
Pork Egg Roll
This is another one of those quick and easy meals that have flavors that you are absolutely going to love.  This recipe will be done in about 30 minutes.
The best part about it is that it's super easy to prep and pack for the week. This is a healthy, easy, and quick recipe that you should really consider trying.
Per Serving:
Calories: 297
Fats: 20g
Net Carbs: 5.5g
Protein: 20g
Click here to see the full recipe
 Cauliflower Hash Browns
Do you suddenly have a craving for browns? However, you know that browns are not for you on the keto diet
Luckily, we have reinvented regular hash browns in this recipe. These keto hash browns are healthy, easy to pack and taste delicious.
When you think about it, this recipe only needs 3 major ingredients. ere rest are all spices. So you can bet this is one of the easiest dishes on this list.
Per Serving:
Calories: 164
Fats: 11.25g
Net Carbs: 3.2g
Protein: 7g
Click here to see the full recipe
Egg Roll Bowl
This is another recipe that gives a slightly different version from crack slaw. You should have realized that this is a very convenient dish to have on your keto diet.
Honestly, this recipe is very similar to the 9th recipe on this list. But you should check this out if you're ever tired of eating regular crack slaw.
Per Serving:
Calories: 268
Fats: 18g
Net Carbs: 6g
Protein: 15g
Click here to see the full recipe
Shrimp Avocado Salad with Tomatoes
This is a little lunch that can be a replacement for restaurant seafood. Shrimp has a low-calorie count but is super rich in nutrients.
This recipe can be eaten on virtually every diet and 3 ounces of shrimp has about 18g of protein stored in it.
This salad takes only about 20 minutes to make and that's a short time for a lunch that can be eaten more than once.
Per half of what's in the recipe:
Calories: 532
Fats: 35.82g
When I was just getting started on the keto diet, I wish I had these easy low carb recipe collections. If you're looking for easy and simple keto recipes, I recommend you to check this Keto in Five eCookbooks, every single recipe has five ingredients or less and five net carbs or less.
👉 Click here to get the full Keto in Five collection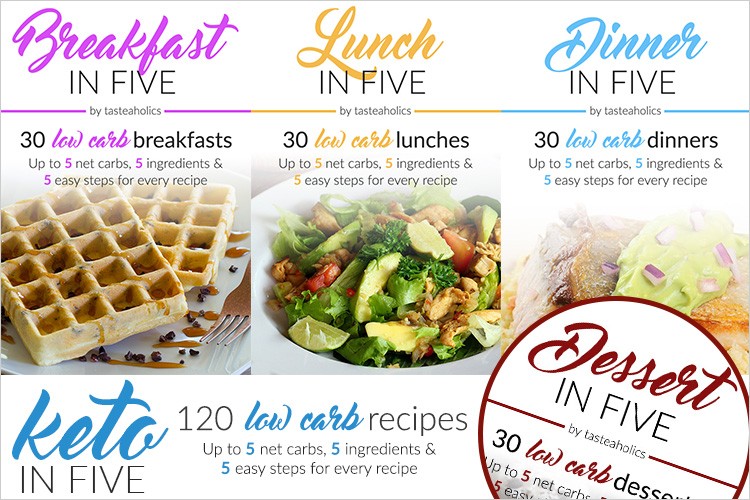 Net Carbs: 13.64g
Protein: 41.11g
Click here to see the full recipe
''Just Like the Real Thing'' Lasagna
Italians are master chefs and their food is the bomb.  Italian cuisine has a very high carb count and can't sit on a keto diet.
However, you dot have to completely get rid of your Italian tastes because this recipe will show you a way to have keto-friendly Italian food.
It indeed takes a lot of time to make lasagna but just know that it's going to be worth the effort. And the packaging is super easy. You can offer this to your friends because it tastes like the real thing.
Per Serving:
Calories: 486
Fats: 34g
Net Carbs: 9.5g
Protein: 57g
Click here to see the full recipe
Ground Beef and Spinach Skillet
This dish looks good and tastes just as wonderful. Preparing it is super easy and it's a nice way to have your greens without thinking too much about it.
And if you're a mushroom fan then this recipe will be one of your favorites. While there aren't many mushrooms in it per se, they do give a nice touch to the recipe.
Per Serving:
Calories: 779
Fats: 60.2g
Net Carbs: 11.6g
Protein: 41.1g
Click here to see the full recipe
Keto Taco Salad – Perfect for Meal Prep
Now you have another taco salad that you should consider trying out. Plus, it's quite simple.
All you have to do is cook the beef and cut up all the ingredients. Put them in a box or bowl and pour sour cream on the products.  When you're ready to eat you just have to mix them up.
This recipe is perfect for meal prepping and you should look out for it.
Per Serving:
Calories: 317.5
Fats: 22.9g
Net Carbs: 3.8g
Protein: 24g
Click here to see the full recipe
Chicken Madras
You'll love this one if you're a fan of curry. So if you're on the keto diet and you want some curry, this is the way to go.
And because of the spices, it stays for a longer period. Packing it is also super easy so taking it to work isn't a challenge.
Per Serving (with cauliflower):
Calories: 560
Fats: 28.75g
Net Carbs: 8g
Protein: 60.75g
Click here to see the full recipe
Cauliflower and Ground Beef Hash
Now, this is one easy and cheesy low carb recipe. You can have it for supper so packing it for lunch is no problem.
Just like the other meals on this list, it tastes amazing
Per Serving:
Calories: 261
Fats: 14.98g
Net Carbs: 2.97g
Protein: 26.41g
Click here to see the full recipe
Santa Fe Low Carb Chicken
This is one low carb recipe for any lunch. If you love chicken and hot spices then this recipe is definitely for you.
You could choose to fry the chicken or just use the oven- your call. And you'll need your cauliflower rice but it shouldn't take that long if you know what you're doing
The Mexican  chicken recipe will leave you asking for more and if you're sharing with your colleagues you can bet that they'll be filled up and pleased
Per Serving:
Calories: 303
Fats: 16g
Net Carbs: 8g
Protein: 28g
Click here to see the full recipe
Avocado Tuna Salad
Tuna is not really for everyone- I know, but you should consider this recipe. There are lots of healthy fats in here and proteins.
Truth is, any fish is a great source of. So try putting more seafood in your weekly diet.
an acidic touch from the lemon juice. So if you like that kind of flavor you should try this meal for work.
Per Serving:
Calories: 304
Fats: 20g
Net Carbs: 4g
Protein: 22g
Click here to see the full recipe
Jalapeño Shrimp Veggie Bake
This recipe is for the vegetarians out there who are on the keto diet and need something for lunch. But this recipe is not just for vegetarians even regular people can have this if they need a break from meat.
This is one easy dish and it will feed more than one person. This also looks very good.
Per Serving:
Calories: 240
Fats: 9g
Net Carbs: 7g
Protein: 20g
Click here to see the full recipe
Baked Salmon in Foil
The last two recipes in this list are going to be oven-baked. This one is quite easy and can be prepared while you're keeping your hands busy you could be listening to news of texting at the same time.
And this recipe is for the salmon fans out there. You can make this a bit fancier by adding green salad, add a few cherry tomatoes.
Per Serving:
Calories: 330
Fats: 19.1g
Net Carbs: 1.94g
Protein: 35.45g
Click here to see the full recipe
Keto Fried Chicken (Baked in Oven)
This recipe is all those chicken fans, especially the ones that love chicken thighs. This recipe gives you a healthier keto-friendly version of chicken thighs. Just use crushed pork rinds instead of breadcrumbs
Try not to fry these, use the oven. You get a much healthier version of your everyday KFC chicken.
They are crispy, very low in carbs and very tasty. Try this and You won't even feel like you're on a diet.
Per Serving:
Calories: 273
Fats: 13g
Net Carbs: 0.33g
Protein: 35g
Click here to see the full recipe
*** Don't forget to pin this for later! ***
I have been on a keto diet for a long time and I have realized that gratification and simplicity is the main key to success with your diet. I am happy to suggest you these eBooks for the best keto result:
Dessert In Five
,
Dinner In Five
,
Lunch In Five
and
Breakfast In Five
.
Every eBook has 30 recipes. All the recipes have an average of 5g carbs and 5 ingredients at most. So you can enjoy a second meal at any time of the day and still do not exceed your carb limit. With a total 120 easy to make recipes, every recipe has the details of the nutrients included so you can eat tastily and stay informed about your carbs intake.
Click here to get the full Keto in Five e-bundle