8 Keto Ground Turkey Recipes Even Picky Kids will Love
Affiliate links may be used in this post. I may receive a small commission at no extra cost to you if you make a purchase through my affiliate link. Read my full disclaimer here
---
In this article, you are doing to find some delicious keto-friendly be recipes that use ground turkey to create magnificent meals while still on the keto diet. Your kids won't be picky about food with this recipe!
Considering how many keto ground turkey recipes there are out there, it was quite the feat selecting these seven. But I'm sure I selected the best ones for you.
Now prepare to see the best of the best when it comes to keto ground turkey recipes.
BBQ Bacon Cheddar Meatloaf
Okay, this list is going to get started with this delicious meatloaf recipe made with some ground turkey, bacon and cheddar cheese.
You'll be done preparing this in about 5 minutes which makes it a good choice for quick dinners. Your kids will grovel at the sight and taste of this one.
If you have some time to spare, grab your ground turkey from the fridge and get started with this recipe you won't regret!
Turkey, Spinach & Cheese Meatballs
Now for some tasty keto meatballs made with ground turkey, spinach, mozzarella cheese, and some Parmigiano Reggiano.
I know meatballs are kind of a family meal and you might not be to keen on the idea of putting spinach in them especially if your kids are picky. But this recipe is worth a shot. The flavors of the meat, cheese, and all other ingredients will virtually drown out the spinach so you don't have to worry about your kids not liking the spinach.
So this recipe is the bomb for a low carb dinner on any day.
Ground Turkey Skillet w/ Green Beans
This ol' recipe is among the easiest ground turkey recipes you could get your hands on. It's so easy that 7-year-old kids can prepare it, I'm being serious.
You can make it with some tomato sauce, bell peppers, ground turkey, and green beans. This gives you a super healthy low carb dinner without fancy ingredients.
Egg & Turkey Skillet
Now you have the perfect keto breakfast with ground turkey that you can get ready on a weekend in preparation for the week.
You can use this to start off your workweek, plus you can have it for dinner if you don't feel like cooking.
You should make enough of the skillet for the week ahead of time so that you can have access to some low carb breakfasts without spending time in the kitchen.
When I was just getting started on the keto diet, I wish I had these easy low carb recipe collections. If you're looking for easy and simple keto recipes, I recommend you to check this Keto in Five eCookbooks, every single recipe has five ingredients or less and five net carbs or less.
👉 Click here to get the full Keto in Five collection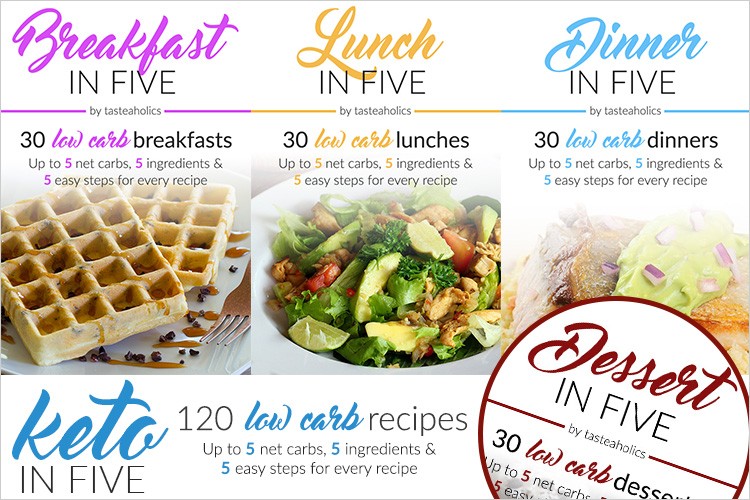 Ground Turkey Stuffed Peppers
Please note: you should swap the normal rice in this for cauliflower rice.
Have you been searching for a healthy, low carb replacement for your regular stuffed peppers? What you need is not before you.
These keto ground turkey stuffed peppers will be pretty much everything you'll need to maintain ketosis. It is packed with fat and proteins but at the same time giving you the other vitamins and minerals you need to stay healthy.
It's an easy meal to prepare and it doesn't take a lot of time: ten minutes tops  so this makes the peppers perfect for a keto dinner for the entire family.
Skinny Taco Salad
This is a Mexican styled salad is what you need for weight loss diets. It has a lot of fat and protein and the low carb veggies have you covered with vitamins.
If your diet needs about 20g of carbs per day or maybe lower, then you should not include the corn and beans because these will add extra unwanted carbs to the mix.
This recipe is on this list because it tastes great with or without the corn and beans. So it's really one of the best keto salads with ground turkey that you can get your hands on.
Thai-Inspired Ground Turkey Stir-Fry
If you're a fan of Thai delicacies then you'll be interested in this keto meal.
You make it with ground turkey, basil, peppers, several sauces, and spices. This gives a delicious and unique Thai flavor. And its carb count in low.
It's the perfect way to make an exotic keto dinner meal that almost everyone will love, including your friends.
*** Don't forget to pin this for later! ***
I have been on a keto diet for a long time and I have realized that gratification and simplicity is the main key to success with your diet. I am happy to suggest you these eBooks for the best keto result:
Dessert In Five
,
Dinner In Five
,
Lunch In Five
and
Breakfast In Five
.
Every eBook has 30 recipes. All the recipes have an average of 5g carbs and 5 ingredients at most. So you can enjoy a second meal at any time of the day and still do not exceed your carb limit. With a total 120 easy to make recipes, every recipe has the details of the nutrients included so you can eat tastily and stay informed about your carbs intake.
Click here to get the full Keto in Five e-bundle