8 Keto Drinks From Starbucks That Won't Kick Out of Ketosis
Affiliate links may be used in this post. I may receive a small commission at no extra cost to you if you make a purchase through my affiliate link. Read my full disclaimer here
---
I know it is sometimes impossible to overcome your urge to visit Starbucks and order your favorite to satisfy your taste buds. I have been doing detailed research on this and I have compiled a very particular list of drinks which you can order and still remain in ketosis.
Let's not waste any time and get right at it.
Low Carb Flat White
Espresso and milk are the general ingredients to make the flat white have its taste and texture. If you want to enjoy this drink while maintaining your ketosis, just use half steamed water and heavy whipping cream instead of the steamed milk. With only a gram of carbs and 5 grams of fats, this drink can be called a fat bomb as well.
Keto Pink Drink
The Pink Drink at Starbucks is originally made with coconut milk, a frozen strawberry scoop, and strawberry Acai. These ingredients make a high carb drink and not suitable for ketosis.
Here is a method to make the same drink keto-approved keeping it delicious. Get yourself a Passion Tango Iced Tea and add vanilla syrup (sugar-free; 3 pumps). Use heavy cream instead of milk and add a strawberry scoop (Frozen).
Do this and you have a delicious keto version of the Pink Drink. The taste might have slight changes, but the gesture is the main thing. You will appreciate the flavor due to the fact that it is now an extremely low carb drink.
Caramel Macchiato (Low carb)
Caramel sauce, brewed espresso, vanilla syrup, and milk makes up this drink with a lot of sugar and carbs. But to make it low on carbs and high on ketosis, here is the trick.
Get yourself a Short Americano and get vanilla syrup (sugar-free; 2 pumps) mixed with heavy whipped cream (1/4) and water (3/4). Add some caramel drizzle (extra light) and voila. You have the same drink converted into a keto version with low carbs (2-3 grams!!!) as compared to 28 grams previously.
Low Carb Mocha
We all love this drink for flavor and texture. We also know that the high carbs in this drink are not for keto lovers. So what do we do? Here is what.
Get yourself a regular Mocha. Add mocha syrup (sugar-free) and use half water with half-heavy whipped cream instead of milk.
There you do. Now you have the same delicious flavor with carbs reduced to a single gram. You would be amazed by the way it will keep you full having 5 grams of fats.
Keto Latte
The original latte is made with a thin foam layer, steamed milk and espresso. Comparatively, the drink is originally low on carb but still not approved for ketosis. To make yourself a keto-approved Latte, order yourself an Americano with heavy cream (1/4), water (3/4) and a foam layer.
When I was just getting started on the keto diet, I wish I had these easy low carb recipe collections. If you're looking for easy and simple keto recipes, I recommend you to check this Keto in Five eCookbooks, every single recipe has five ingredients or less and five net carbs or less.
👉 Click here to get the full Keto in Five collection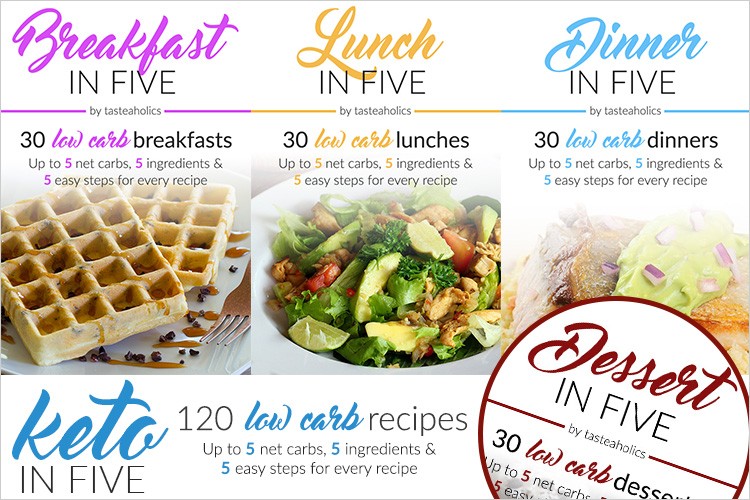 Your low carb keto Latte is ready with only 5 grams of fats and a single gram of carbs.
Americano (Low Carb)
Let me tell you a secret here, Americano itself, originally, in reality, and basically is a low carb drink at Starbucks. Do I need to say anything else? I think not. Order one and enjoy it.
Keto Iced Coffee (Low Carb)
Since you are reading the article, here is another secret for ketosis people. Unsweetened Iced Coffee at Starbucks is also keto-approved. Order one and enjoy the love for coffee.
Indian Chai Latte (Iced and Keto Approved)
This drink is originally made with ingredients that are loaded with carbs. So what you need to do is order yourself a Chai Tea Latte having a couple of shots of heavy whipping cream, cinnamon dolce (sugar-free; 2 pumps) and 2 tea bags (brewed).
Do this and you will have yourself a single gram of carbs with 6 grams of fat in your drink.
You can also toy around by replacing the Chai Tea Latte with the "Iced" version and you will have yourself a new flavor altogether.
Peppermint Mocha (Keto Approved)
Its very simple to enjoy this all-time favorite drink without the carbs and with the taste.
Get yourself an Americano Grande and add a couple of heavy whipping cream shots, peppermint syrup (1 pump) and mocha sauce (sugar-free; 4 pumps).
The flavor might differ a little but the carbs will be reduced enormously. Also, it is important to know that the peppermint syrup (sugar-free) is no longer available at Starbucks. But hey, the carbs are reduced to 5 grams from 60 grams, the flavor is still great and you can enjoy Starbucks quality while remaining in ketosis.
*** Don't forget to pin this for later! ***
I have been on a keto diet for a long time and I have realized that gratification and simplicity is the main key to success with your diet. I am happy to suggest you these eBooks for the best keto result:
Dessert In Five
,
Dinner In Five
,
Lunch In Five
and
Breakfast In Five
.
Every eBook has 30 recipes. All the recipes have an average of 5g carbs and 5 ingredients at most. So you can enjoy a second meal at any time of the day and still do not exceed your carb limit. With a total 120 easy to make recipes, every recipe has the details of the nutrients included so you can eat tastily and stay informed about your carbs intake.
Click here to get the full Keto in Five e-bundle