7 Easy and Healthy Keto Crackers You Can Eat On The Keto Diet
Affiliate links may be used in this post. I may receive a small commission at no extra cost to you if you make a purchase through my affiliate link. Read my full disclaimer here
---
Many of my readers have been asking me to research some keto-approved crackers and they are totally fair about their demand. Crackers are not generally keto-approved and many dieters crave for them every day. Crackers are not only awesome party snacks, but they can also be a child magnet as well. So why not make them keto-approved and have some fun while eating some delightful crackers.
Today I am here with the most appropriate and tastiest keto-approved crackers that you can ever have. The best thing is that they are super easy to make and all the ingredients are readily available at a regular kitchen.
Let's not waste any more time and get right to the list.
Low-Carb Cheese Crackers
These salty fat bombs are pretty neat on the cooking counter and very easy and quick to make. all you need are eggs, cheese, some almond flour, and some salt.
Mix them according to the easy recipe and you are done with the delicious fat bomb crackers.
Click here for the full recipe.
Pepper and Salt Crackers
This recipe is actually an amazing one to make and consume. Because it is so similar to any traditional cracker recipe and still it has no carbs. Just 4 simple ingredients and you have yourself a delicious keto-approved crackers bowl ready.
Click here for the full recipe.
Keto Butter Crackers
Okay now here is the perfect cracker recipe that can be used with almost any sauce and dip in the whole world. the neutral taste of these crackers is so original that it is almost impossible to declare it as a diet recipe. Combine only 4 keto-approved ingredients and you will be amazed at the result.
Click here for the full recipe.
When I was just getting started on the keto diet, I wish I had these easy low carb recipe collections. If you're looking for easy and simple keto recipes, I recommend you to check this Keto in Five eCookbooks, every single recipe has five ingredients or less and five net carbs or less.
👉 Click here to get the full Keto in Five collection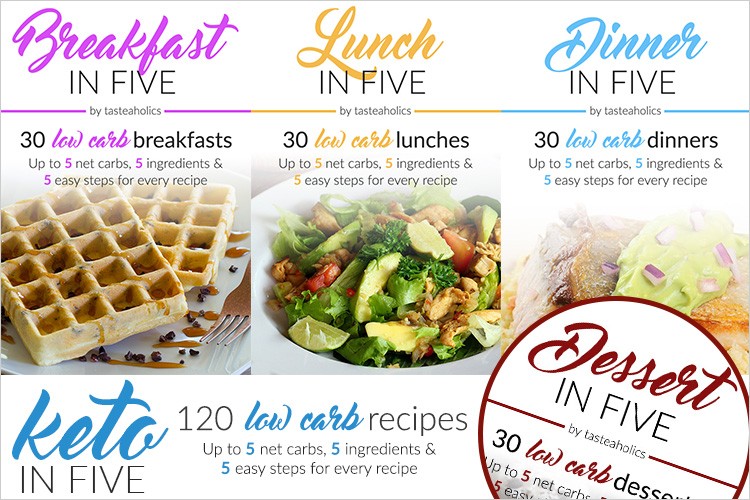 Fathead Crackers
Here is another recipe that can rival any cracker recipe in the market out there while still being keto-approved. Just 3 ingredients make up this recipe and you can even experience the transition from traditional bread to cheese. A one of a kind in itself.
Click here for the full recipe.
3-Ingredient Almond Crackers
These crackers basically have a lot of qualities. With no butter, you can use them as a vegan person. By just adding salt and a few basic keto-approved ingredients, you can make a super tasty crackers bowl. You can even add some spices if you like.
Click here for the full recipe.
Keto Cheese Bacon Nachos
This recipe is a combination of two flavor mountains and still very easy to make. keto-approved nachos combine with cheese and bacon and you get a flavor is that is going to get you a load of compliments from your friends and family.
Click here for the full recipe.
Keto Crackers With Flax Seeds & pumpkin
We all know how beneficial flax seeds are for human anatomy and they have a well-explained price tag as well. Therefore, I have decided this recipe for the determined ones. You can easily make them at your home kitchen and serve them with a snack or charcuterie. It is pretty easy to make and very low on carbs.
Click here for the full recipe.
I have been on a keto diet for a long time and I have realized that gratification and simplicity is the main key to success with your diet. I am happy to suggest you these eBooks for the best keto result:
Dessert In Five
,
Dinner In Five
,
Lunch In Five
and
Breakfast In Five
.
Every eBook has 30 recipes. All the recipes have an average of 5g carbs and 5 ingredients at most. So you can enjoy a second meal at any time of the day and still do not exceed your carb limit. With a total 120 easy to make recipes, every recipe has the details of the nutrients included so you can eat tastily and stay informed about your carbs intake.
Click here to get the full Keto in Five e-bundle