7 Delicious Keto Chocolate Cheesecake You Can Eat on Ketosis
Affiliate links may be used in this post. I may receive a small commission at no extra cost to you if you make a purchase through my affiliate link. Read my full disclaimer here
---
There are certain times in your life when you are craving for a cheesecake but your ketosis is not allowing you to indulge yourself in it.
Do not have any worries. The following recipes are the best alternatives for a ketogenic cheesecake that will not only feed your cravings but also your ketosis will stay in line.
Do remember to post feedback. We love to hear from you.
Triple Chocolate Keto Cheesecake
A basic cheesecake with chocolate is not something for which one can easily settle now. Its high time we make ketosis approved TRIPLE chocolate cheesecake.
Sounds nice right?
This amazing and easy to make cheesecake oozing with the flavor of delicious chocolate will feed your chocolate cravings while still being gluten-free and sugar-free.
Click here to see the full recipe.
Death By Chocolate Cheesecake
The name has a punch in it and so does the recipe. Reading the name made me wonder will it really be that good. After I made the cake myself, I was a hundred percent sure that my ketosis is never going to be boring and hard ever again.
Click here for the full recipe.
Low Carb Raw Chocolate Cheesecake
Here is a fact. Raw chocolate is actually healthier than traditional chocolate and it has its reasons.
Sometimes it is hard to find any good chocolate and one wonders how can we replace chocolate. You will be amazed to know that cacao powder has all the qualities of pure raw chocolate and is the best alternative. When it is combined in a cheesecake, the result is quite fascinating.
Click here for the full recipe.
Truffle Cheesecake With Low Carb Chocolate
Now I know that all I have said in this blog is about chocolate cheesecakes and for a person who is living away from home, and loves baked cakes, it is nothing but sheer torture. So here is a tip. Pin this article and whenever you get your hands on baking material, give it a go. You won't regret it.
When I was just getting started on the keto diet, I wish I had these easy low carb recipe collections. If you're looking for easy and simple keto recipes, I recommend you to check this Keto in Five eCookbooks, every single recipe has five ingredients or less and five net carbs or less.
👉 Click here to get the full Keto in Five collection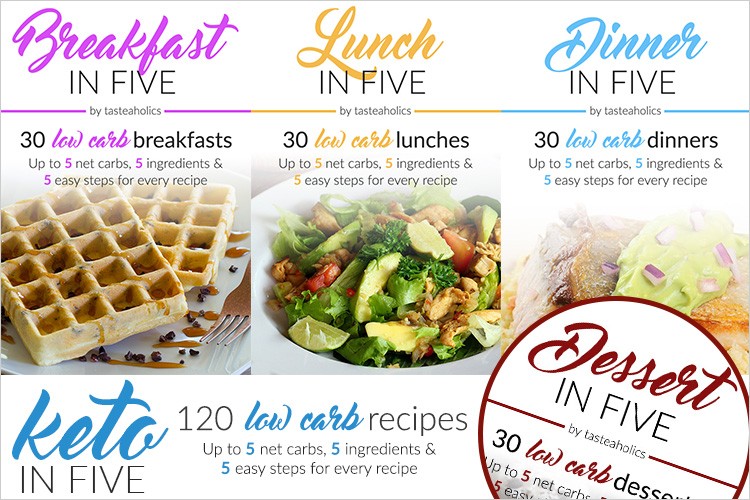 Click here for the full recipe.
Ketosis Approved Junior Chocolate Cheesecake
There are times in your office when you want to enjoy your lunch all by yourself but your colleagues don't allow you to do so. Here is the deal-breaker. This mini cheesecake with keto ingredients will allow you to indulge in the cake all by yourself and you won't even need to save some.
You can also pack this cake for your kids in their lunch and don't expect any leftovers.
Click here for the full recipe.
Chocolate Cheesecake With No-Bake Brownie Batter
If you are a person who does not have plenty of time on his hands and lacks proper baking equipment, then this no-bake keto cheesecake is going to save you from craving it and not having it.
Delicious chocolate cheesecake with a mouthwatering base of brownie batter, all piled in multiple layers with a chocolate ganache topping will surely make your ketosis worth the struggle. Good health is not that difficult with this recipe.
Click here for the full recipe.
Keto Cheesecake With No-Bake Chocolate
Everyone loves a good chocolate cheesecake and when it has nothing to do with baking, has ketosis approved ingredients list and has a look like chocolate mousse, everyone will be craving for a bite.
This no-bake cake recipe involves the tangy and decadent texture of chocolate with an amazing aroma.
Click here for the full recipe.
*** Don't forget to pin this for later! ***
I have been on a keto diet for a long time and I have realized that gratification and simplicity is the main key to success with your diet. I am happy to suggest you these eBooks for the best keto result:
Dessert In Five
,
Dinner In Five
,
Lunch In Five
and
Breakfast In Five
.
Every eBook has 30 recipes. All the recipes have an average of 5g carbs and 5 ingredients at most. So you can enjoy a second meal at any time of the day and still do not exceed your carb limit. With a total 120 easy to make recipes, every recipe has the details of the nutrients included so you can eat tastily and stay informed about your carbs intake.
Click here to get the full Keto in Five e-bundle