7 Delicious Keto Chips Recipes With Mouth Watering Salsa Dips
Affiliate links may be used in this post. I may receive a small commission at no extra cost to you if you make a purchase through my affiliate link. Read my full disclaimer here
---
The love for potato chips is unparalleled and I know the urge for them while in ketosis. Do not worry as I have compiled a list for low carb chips with some mouth-watering salsa dips.
You will be amazed to see the results as many people who have tried these recipes have lost a lot of weight and remained content on their cravings for chips.
Let's not waste any more time and get started with the recipes.
Low Carb Garlic Cheddar Cheese Crisps
Having only 2 grams of carbs, 7 grams of protein and the same for fats, you will be amazed at the wonders these crisps can do when it comes to making an alternative for traditional chips. Amazing flavor, rich texture and low carbs, you will love them without any doubt.
Click here for the full recipe.
Nacho Zucchini Chips
Here is a tricky and rather unique way to eat your herbs and still enjoy a flavor similar to the original one. Having just 1.5 grams of carbs, half a gram of proteins, 7 grams of fat and 66 calories, you will love this alternative recipe with zero doubts. It's tasty and it's keto-approved.
Click here for the full recipe.
Tortilla Chips With Low Carbs
We all love to have a spicy flavor for our fries. This recipe is not only fulfilling that requirement but also provides you to consume your guacamole in a unique crispy texture. With just 5 grams of carbs, 23 grams of fat and 280 calories, the recipe is an amazing way to keep tortilla chips on the menu while staying in ketosis.
Click here for the full recipe.
Cottage Cheese Chips
This amazing tasting keto-approved chips recipe has a twist in it. The main ingredient is cottage cheese which is famous for its soft texture. But when prepared according to the recipe, you will find it in the shape of crispy and thin cheese. Low on carbs and high on flavor, you will love these chips.
Click here for the full recipe.
When I was just getting started on the keto diet, I wish I had these easy low carb recipe collections. If you're looking for easy and simple keto recipes, I recommend you to check this Keto in Five eCookbooks, every single recipe has five ingredients or less and five net carbs or less.
👉 Click here to get the full Keto in Five collection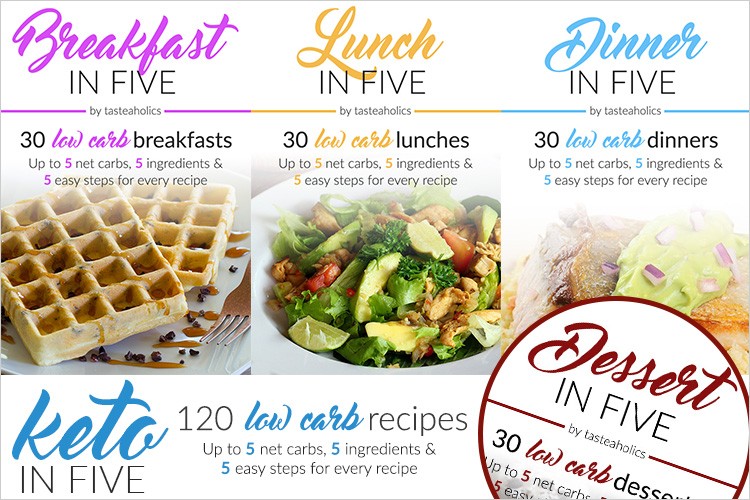 Zucchini Parmesan Chips
For all the zucchini lovers, here is another recipe for chips. When you combine zucchini and parmesan cheese to make some keto-approved chips, the result is going to be nothing but absolutely delicious and crispy.
Click here for the full recipe.
Tortillas, Taco Shells and Nachos
Here is a complete package for all those out there who have a massive craving for Mexican chips and want to maintain their ketosis as well. Follow the recipe and enjoy how you can eat your guacamole-dipping with nachos and so many other ingredients.
Carbs:                   1.5g
Proteins:              5.1g
Fat:                        14g
Calories:               165
Click here for the full recipe.
Taco Dip With Crockpot Cream Cheese
This salsa is going to be an amazing companion for all the keto chips that I have shared above. You don't have to worry about its nutrition chart, because this salsa is also completely keto-approved.
The dip is amazing if tried with these keto chips and offers low carbs at all costs.
Click here for the full recipe.
*** Don't forget to pin this for later! ***
I have been on a keto diet for a long time and I have realized that gratification and simplicity is the main key to success with your diet. I am happy to suggest you these eBooks for the best keto result:
Dessert In Five
,
Dinner In Five
,
Lunch In Five
and
Breakfast In Five
.
Every eBook has 30 recipes. All the recipes have an average of 5g carbs and 5 ingredients at most. So you can enjoy a second meal at any time of the day and still do not exceed your carb limit. With a total 120 easy to make recipes, every recipe has the details of the nutrients included so you can eat tastily and stay informed about your carbs intake.
Click here to get the full Keto in Five e-bundle