9 Quick Keto Cabbage Recipes That Will Stay With You Forever
Affiliate links may be used in this post. I may receive a small commission at no extra cost to you if you make a purchase through my affiliate link. Read my full disclaimer here
---
If you are vegetarian and want to take all the advantages of cabbages in your keto meals, I am here to help you out. With these recipes, you can make use of cabbage in your meals by getting it shredded, or baked or even boiled or stewed.
Let's get into the awesome low carb recipes of this list.
Instant Pot Cabbage Soup with Beef
This cabbage soup is not only an instant one, but it actually cooks the cabbage properly. You will have a lovely refreshing taste of cabbage along with the energy of beef and that too within minutes.
Need an instant pot for this recipe? I've got you covered, this one is just perfect
Click here for the full recipe.
Easy Sausage and Cabbage Dinner
Here is a recipe that is going to be loved by your entire family because of its appetizing look. Although there are a lot of greens in this recipe but when the sausage is added to the bowl, no one will even consider it to be a diet recipe.
Click here for the full recipe.
Egg Roll Stir Fry
With this recipe, the options are limitless. You can have a full-size dinner meal ready in just 30 minutes and that too with a lot of healthy nutrition. Cheese sprinkled with stir-fried egg rolls is a great way to consume some fats. Having cabbage coupled with pork, or turkey, or even ground beef will give another flavor to savor.
Click here for the full recipe.
Cabbage Noodle Tuna Casserole
Here is a low carb recipe that will get your cabbage into the mix in the most delightful way. Mixed with tuna fish casserole and noodles, you won't need any pasta for this recipe. Amazingly easy to make and with a rich texture in your mouth, you will fall in love with this high-fat recipe.
When I was just getting started on the keto diet, I wish I had these easy low carb recipe collections. If you're looking for easy and simple keto recipes, I recommend you to check this Keto in Five eCookbooks, every single recipe has five ingredients or less and five net carbs or less.
👉 Click here to get the full Keto in Five collection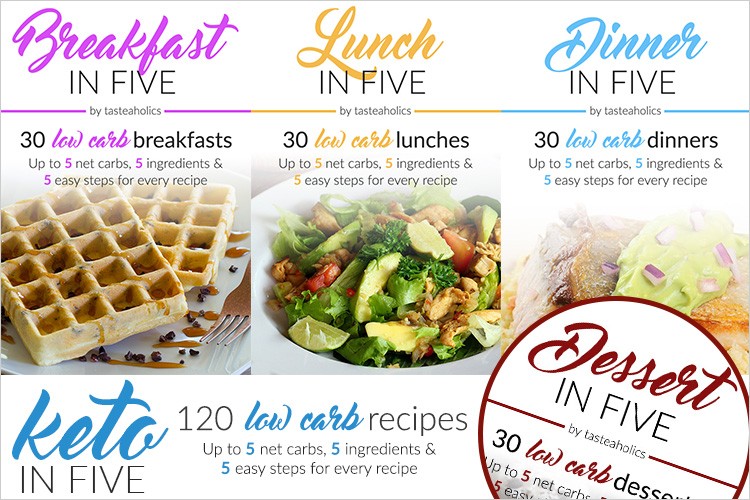 Click here for the full recipe.
Low Carb Cabbage Lasagna
Here is a recipe that will blow anyone away if you tell them you have cabbage lasagna for dinner. All the ingredients in this recipe are keto-approved and amazingly easy to find. Your cabbage will have a fully cooked crisp texture combined with the awesomeness of cheese, sauce, and beef.
Need I say more?
Click here for the full recipe.
Bacon-Wrapped Cabbage
Here is a recipe for those who can wait for food but cannot spend time in the kitchen. It takes about 5 minutes to make and around 30 minutes to bake. Extremely easy with yummy keto-approved ingredients, you can make these bacon wrapped cabbage pucks very easily for the perfect snacks after coming from the office.
Click here for the full recipe.
Tex Mex Cabbage Beef Skillet
Here is another family recipe to end this list. You will be happy to know that this cabbage meal is so well balanced that you can even serve it in your big events. With the proper amount of cheese for fat and meat for protein, you will get a lot of nutrients and vitamins from cabbage. Amazingly, this exotic meal is quite easy to make.
Click here for the full recipe.
*** Don't forget to pin this for later! ***
I have been on a keto diet for a long time and I have realized that gratification and simplicity is the main key to success with your diet. I am happy to suggest you these eBooks for the best keto result:
Dessert In Five
,
Dinner In Five
,
Lunch In Five
and
Breakfast In Five
.
Every eBook has 30 recipes. All the recipes have an average of 5g carbs and 5 ingredients at most. So you can enjoy a second meal at any time of the day and still do not exceed your carb limit. With a total 120 easy to make recipes, every recipe has the details of the nutrients included so you can eat tastily and stay informed about your carbs intake.
Click here to get the full Keto in Five e-bundle