8 Delicious Keto Appetizers Your Guests Will Love
Affiliate links may be used in this post. I may receive a small commission at no extra cost to you if you make a purchase through my affiliate link. Read my full disclaimer here
---
Appetizers are a must-have in every party and if they are keto-approved then all of your guests will be actually humbled by this gesture of yours. Here I have a list of the best party appetizers that are not only keto-approved but they are also extremely easy to make.
Let's get started with the list. One thing before we start, get ready to select your own signature appetizer for the party and be famous for your brand.
No Bread Italian Sub Roll-Ups
Everyone loves how Italian cuisine gets their mouths filled with water just by looking at them. Unfortunately, keto dieters were not able to put their hands on such cuisine. Until now. The Italian sub is now available in its keto version and it actually tastes even better.
This version has some mayonnaise and cheese, along with other keto-approved ingredients and its pretty easy to make as well.
Click here for the full recipe.
Low Carb Bacon & Cream Cheese Pinwheels
Here is an appetizer that allows you to be creative in your own capacity and still stay keto-approved. Personally, I am a fan of its bacon version but hey! Who's stopping you from doing experiments. Check the recipe and get creative with your flavors.
Click here for the full recipe.
Cheese and Salami Kebabs
Here are Turkish and Indian appetizers coming to your help. With cheddar cheese, camembert cheese, salami, and olives, you are looking at a powerhouse of flavors.
If this is not enough for you, here is another fact punch. You can make the recipe's second version in under 2 minutes.
Click here for the full recipe.
Low Carb Salmon Party Rolls
Smoked salmon always makes people happy and this party appetizer keto recipe takes it to a different version. With creamy herb cheese and avocado present for the flavor support, the salmon party rolls actually bring a very delicious treat to the party table.
Click here for the full recipe.
When I was just getting started on the keto diet, I wish I had these easy low carb recipe collections. If you're looking for easy and simple keto recipes, I recommend you to check this Keto in Five eCookbooks, every single recipe has five ingredients or less and five net carbs or less.
👉 Click here to get the full Keto in Five collection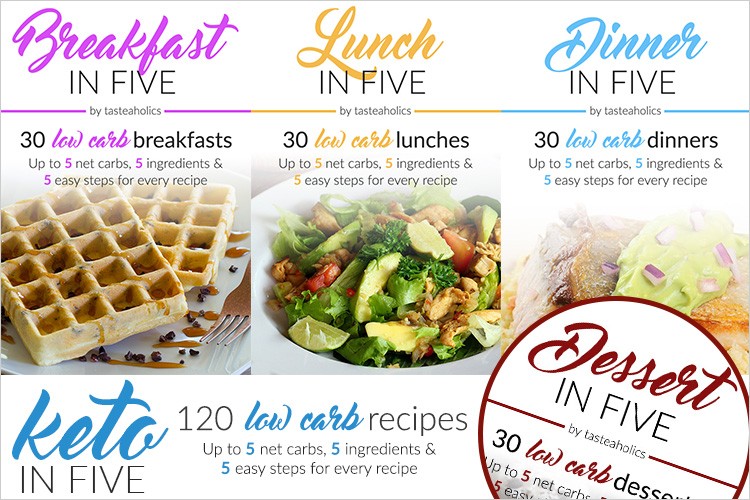 Burger Stuffed Mushrooms
Here is a flavor bomb-shaped as a keto-approved burger. You would be amazed to see the list of ingredients that will fill your mouth with all the love. You have beef mixture, minced garlic, mustard, and Worcestershire sauce.
If that's not it, you get to season it with pickle, tomato, pepper, and salt as well.
The continuous flavor strikes in your guests' mouths will be a party trick in itself.
Click here for the full recipe.
Low Carb Pepperoni Pizza Cups
Here is a recipe that is not only going to be your party favorite because its simple to make, but it will also give you an option to use the same ingredients (with a little twist) for a completely different meal.
With very low carb and keto-approved 5 ingredients, you can have yourself a meal that will do away your pizza cravings.
If you use cashew cheese and almonds, you can even come up with its paleo version. It is super easy to make and super fun to eat because you can store it in the fridge for up to a week.
Click here for the full recipe.
Bacon Wrapped Avocado Fries
Having some super qualities that are fit for both dieters and non-dieters, avocadoes actually make it to so many relatable recipes.
Here is another one with low carbs and high flavors. You can use your oven to get some tasty avocado wedges wrapped in bacon. Don't forget to check the avocado. You don't want it to be too ripe. Pre-cooked bacon can also be helpful for the recipe.
Click here for the full recipe.
*** Don't forget to pin this for later! ***
I have been on a keto diet for a long time and I have realized that gratification and simplicity is the main key to success with your diet. I am happy to suggest you these eBooks for the best keto result:
Dessert In Five
,
Dinner In Five
,
Lunch In Five
and
Breakfast In Five
.
Every eBook has 30 recipes. All the recipes have an average of 5g carbs and 5 ingredients at most. So you can enjoy a second meal at any time of the day and still do not exceed your carb limit. With a total 120 easy to make recipes, every recipe has the details of the nutrients included so you can eat tastily and stay informed about your carbs intake.
Click here to get the full Keto in Five e-bundle