9 Easy Keto Snacks To Start Your Weight Loss Journey
Affiliate links may be used in this post. I may receive a small commission at no extra cost to you if you make a purchase through my affiliate link. Read my full disclaimer here
---
Having a diet schedule is a healthy thing but it does not mean that you should stop having all the tasty snacks. If you are craving something very badly, you need to give yourself a break and have it.
To make this easy, I am here with a list of some super smart and easy to make snacks that you will love eternally. They contain some sweet snacks; some are salty while some have a mixed flavor for your mixed cravings. I am very confident that you will love them.
Let's not waste any more time and get right to the list.
Parmesan Zucchini Tots
To start off, these tots are very tasty and very crunchy to the touch. So you can enjoy parmesan flavor all you want without worrying about any bad carbs. You can even store them for later use and they will taste the same – finger-licking good.
Click here for the full recipe.
Cottage Cheese-Filled Avocado
I cannot talk enough good about avocadoes in ketosis and this recipe takes avocados to a whole new level of taste and health. Optionally, you can mix some cayenne or regular pepper for some spice. In order to make this super easy recipe, you just need to split open the avocado and stuff it with the three basic keto-approved ingredients and some cottage cheese.
Click here for the full recipe.
Low Carb Tortilla Chips
For this super delicious weight-loss snack, you need guacamole and avocadoes (again) as the basic ingredients. You can then enjoy the chips with some fresh salsa or any other keto-approved dipping of your choice.
Click here for the full recipe.
Sea Salt Dark Chocolate Almond Clusters
With only 20 minutes in the kitchen, you can make these super awesome twisty flavored clusters. Having sea salt mixed with some delicious dark chocolates and almonds, you can expect a snack that will satiate any person with a craving for super delicious snacks. They might even feel addictive so, heads up!!
Click here for the full recipe.
Sugar-Free Granola Bars
Here is another sugar-free sweet recipe for snacks. This recipe is not only super easy to make, but it will hardly take you 15 minutes in the kitchen as well. You can make a good batch in minutes and store it for later use. This keto version of kind bars is going to be your all-time favorite snacks after your first try.
Click here for the full recipe.
When I was just getting started on the keto diet, I wish I had these easy low carb recipe collections. If you're looking for easy and simple keto recipes, I recommend you to check this Keto in Five eCookbooks, every single recipe has five ingredients or less and five net carbs or less.
👉 Click here to get the full Keto in Five collection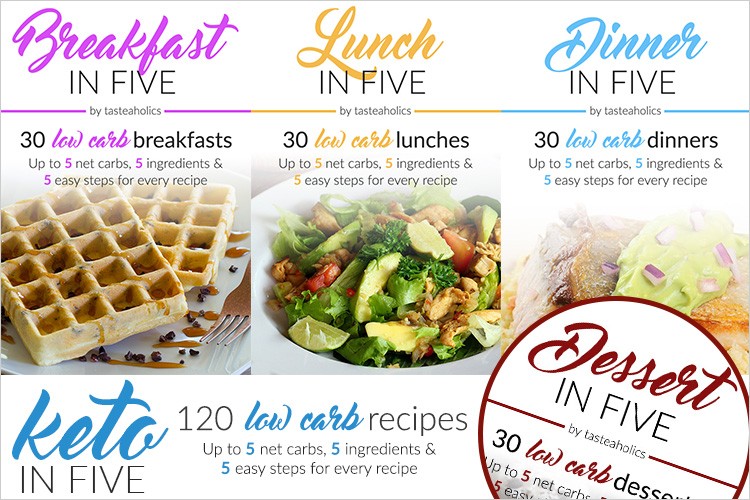 Keto Soft Pretzels
Not every dieter can survive without pretzels and I have the perfect solution for that. This keto-approved version of soft pretzels will satiate your cravings in the most suitable way and you will feel full as well.
Click here for the full recipe.
Low Carb Cheese Crackers
You can make a big batch of these crunchy snacks to munch on for a long time. The low carbs in these keto-approved crackers with cheese will keep you busy and might even get you full in the most satiating way possible. Amazingly, they won't take you longer 20 minutes to prepare a good batch.
Click here for the full recipe.
Avocado Deviled Eggs
Who does not have a love for deviled eggs? And when the keto-approved avocadoes join the ingredients, you can expect a snack that is going to be epic. With a storage duration of about 5 days, a single batch of these can serve as a long-lasting partnering and delicious snack.
Click here for the full recipe.
Fat Bombs (Keto, Vegan, No Bake)
Having no carbs and sugar, these chocolate fat bombs are a heavenly blessing to consume when you crave some sweet snacks. They have enough fat to keep you up and running for a full day while keeping you full as well.
Click here for the full recipe.
Loaded Zucchini Skins
Here is an amazing and delicious alternative for potato skins with an even better taste. Get some zucchinis and remove their centers. Make a carving in the mid and load it using some keto-approved toppings. Green onions, cheese, avocadoes, etc. will do great.
Click here for the full recipe.
I have been on a keto diet for a long time and I have realized that gratification and simplicity is the main key to success with your diet. I am happy to suggest you these eBooks for the best keto result:
Dessert In Five
,
Dinner In Five
,
Lunch In Five
and
Breakfast In Five
.
Every eBook has 30 recipes. All the recipes have an average of 5g carbs and 5 ingredients at most. So you can enjoy a second meal at any time of the day and still do not exceed your carb limit. With a total 120 easy to make recipes, every recipe has the details of the nutrients included so you can eat tastily and stay informed about your carbs intake.
Click here to get the full Keto in Five e-bundle