7 Keto Salad Recipes That are Easy and Healthy
Affiliate links may be used in this post. I may receive a small commission at no extra cost to you if you make a purchase through my affiliate link. Read my full disclaimer here
---
Many ketosis observers have a hard time when it comes to eating fruits because keto-approved fruits are not rich in quantity. There is also an observation that salads are mostly used during the summers.
I am here today with a list of amazingly tasty keto salads that will not only be super healthy but also can be consumed all year long and are very easy to make as well. They taste even better if you want to try them in winters in particular.
Keto Salad With Potato And Cauliflower
You can make this salad within minutes as all the ingredients are always available in every kitchen. The amazing bit of the salad is that the taste is similar to the regular potato salad and it also has very low carbs with immense nutrition from cauliflower.
Click here to see the full recipe.
Lobster Roll Salad
This keto salad has a very rich look to it because of the lobster and you will find it very intimidating when placed on the table. Amazing taste, attractive and appetizing look, and all the nutrients with low carbs, this fancy keto salad has it all.
Click here to see the full recipe.
Monster Wedge Salad
If you are a person who wants to just put every keto ingredient on the menu without putting much effort into it and still want a delightful taste, this is the best keto salad for you. You might compromise on the look but the nutrients and taste are worth it.
Click here to see the full recipe.
Coastal Cobb Salad
Here is something useful if you are having guests over for a party and do not want to spoil your ketosis schedule. Adding shrimp, bacon, and avocado into the mix will not only give your guests a delightful treat, but it will also keep them and you healthy.
Click here to see the full recipe.
Grilled Salad With Chicken Caprese
If you are a person who does not hurry in cooking and wants to bring out the true flavor of everything, then this is the best dish for you. With its elegant ingredients and ketosis approved procedure, you can taste so many different flavors in this salad all at once.
When I was just getting started on the keto diet, I wish I had these easy low carb recipe collections. If you're looking for easy and simple keto recipes, I recommend you to check this Keto in Five eCookbooks, every single recipe has five ingredients or less and five net carbs or less.
👉 Click here to get the full Keto in Five collection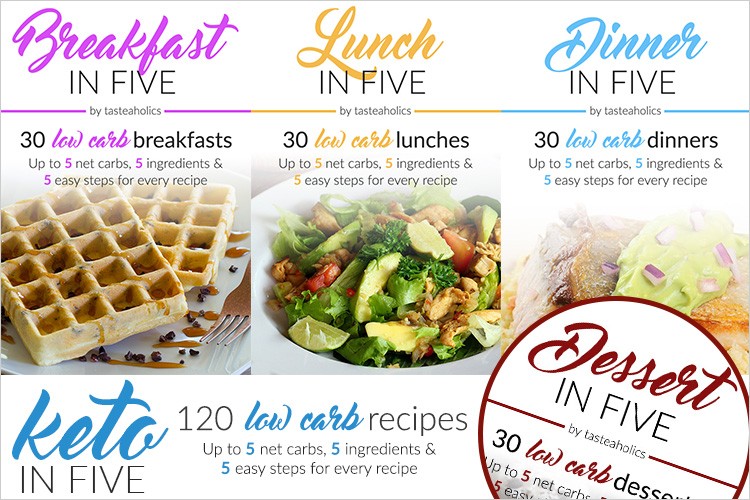 Click here to see the full recipe.
Eggs Bacon Spinach In A Salad
This high-fat salad has eggs, bacon, spinach and other greens mixed into it and resultantly it is a magical wand for those who want to lose weight quickly. The salad will keep you energized, full and fresh and you can eat it as much as you like.
Click here to see the full recipe.
Chopped Buffalo Chicken Salad
Looking at the main ingredients of this salad, one can be sure that this keto-approved salad is not short on flavor. All you have to do is follow the recipe and get yourself a healthy, nutritious yet delicious salad.
Click here to see the full recipe.
Keto Salad With Taco
Ketosis approved meals often surprise people with the ingredients they use and this taco salad is exactly one of them. With this salad, you can not only feed your cravings for Mexican cuisine, but you can also use it as a regular lunch at your office.
Click here to see the full recipe.
The Big Mach Keto Salad
The all-time famous big mac was never supposed to be in the keto-approved list but with little changes in the ingredients, you can feast on this lovely taste yet stay inside your ketosis. If you have kids going through their teens and want to them eat healthily, you can easily talk them into enjoying this delicious treat. Healthy, and easy to make, you will see it fit in your regular meal items very quickly.
Click here to see the full recipe.
*** Don't forget to pin this for later! ***

I have been on a keto diet for a long time and I have realized that gratification and simplicity is the main key to success with your diet. I am happy to suggest you these eBooks for the best keto result:
Dessert In Five
,
Dinner In Five
,
Lunch In Five
and
Breakfast In Five
.
Every eBook has 30 recipes. All the recipes have an average of 5g carbs and 5 ingredients at most. So you can enjoy a second meal at any time of the day and still do not exceed your carb limit. With a total 120 easy to make recipes, every recipe has the details of the nutrients included so you can eat tastily and stay informed about your carbs intake.
Click here to get the full Keto in Five e-bundle