10 Delicious Keto Dessert For Your Low Carb Diet
Affiliate links may be used in this post. I may receive a small commission at no extra cost to you if you make a purchase through my affiliate link. Read my full disclaimer here
---
Sometimes people feel deprived when it comes to carrying any diet. You can enjoy any diet if you know how to enjoy the allowed ingredients. The trick is to find the best combination allowed and make the perfect meals for your diet.
I have compiled a complete list of such recipes and am sure you will feel blessed as they are all allowing the ketosis observers to enjoy desserts in any way they want. Being the sweet tooth satisfier, they will allow you to turn desserts from a not to a hot.
Pecan Pie Cheesecake
If you are a cheesecake lover and also have an appetite for pecan pie, you are in for a great treat. This recipe is going to fulfill your needs for both of these amazing meals and amazingly, they are keto-approved. You can serve a group of 12 with this recipe.
Click here to see the full recipe.
Double Chocolate Chip Chewy Cookies
If there is anything that can beat the flavor of a chocolate chip cookie, it's the double chocolate chip chewy cookies. With a soft and moist texture, the keto-approved ingredients make it a feast for anyone who mouths them.
Click here to see the full recipe.
Cream And Cookie Ice Cream
Ice cream is something every ketosis observer misses and craves most of the time. Here is a recipe that will satisfy your need for ice cream and will not break your ketosis either.
With its crunchy and creamy texture, you will be on a joyride for your cravings for ice cream. You will be amazed to know how easy it is to make it.
Click here to see the full recipe.
Creamsicles With Mixed Coconut Berry
Do you remember when we were children and had a special love for popsicles?  Well here is a recipe that will allow you to remember the old times and at the same time continue your ketosis diet.
This low carb recipe will satisfy all your needs for a dessert and sweets. Make this easy recipe at any given time and indulge in the yummy flavor of keto-approved ingredients.
Click here to see the full recipe.
 Snickerdoodles
With an entirely unique texture, these sweet and yummy yet sugar-free delights are the best way to kill your cravings for desserts. The easy procedure of this dessert makes it a very good choice for a quick meal and satisfy your love for something sweet after a long day.
Click here to see the full recipe.
When I was just getting started on the keto diet, I wish I had these easy low carb recipe collections. If you're looking for easy and simple keto recipes, I recommend you to check this Keto in Five eCookbooks, every single recipe has five ingredients or less and five net carbs or less.
👉 Click here to get the full Keto in Five collection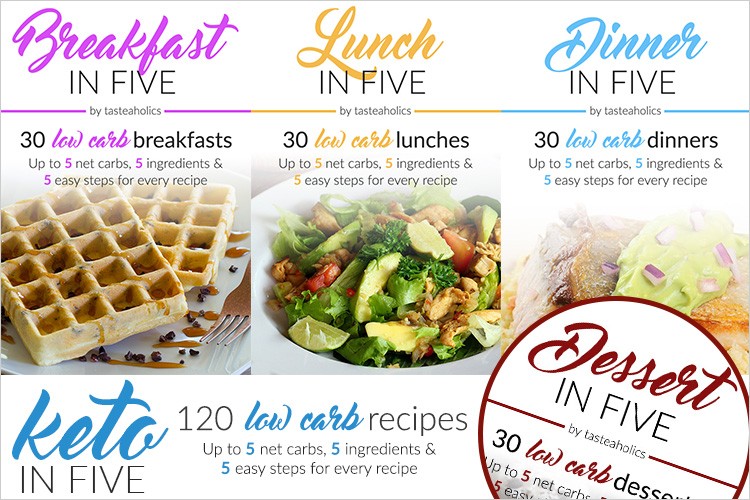 Mocha Mousse
In order to avoid this delicious and healthy dessert, you need to be very strong, otherwise, this delicious looking and mouth-watering dessert is something you cannot avoid. The attraction increases manifolds when you learn that the ingredients are completely keto-approved and will take only 20 minutes to make.
Click here to see the full recipe.
Sugarless Cheesecake
Cheesecake is something that keeps on popping in many recipes but no one has ever been so honest with it before this recipe. With zero sugar involved in the ingredients, the amazing recipe maintains the texture of the cake and upholds the flavor as well while still being completely keto-approved.
Click here to see the full recipe.
Chocolate Mug Cake
When we combine the love for chocolate with ketosis, this recipe comes into existence. You will be amazed to know that while being so yummy and rich in flavor, this recipe still is completely keto-approved and you won't be breaking any rules while eating it.
Click here to see the full recipe.
Lemon Bars
A common concept about lemons is that they can only offer a sour flavor. Here is a recipe that not only negates this but also allows you to explore the healthy and ketosis approved dessert side of this ingredient. With low carbs and high fat, lemon bars are a great way to stay full and healthy.
Click here to see the full recipe.
 Pecan Ice Cream With Brown Butter
There are times when a ketogenic diet observer is craving for pecan ice cream and is unable to come up with something to satisfy the urge. Here is a recipe that will fulfill this need with a plus side of brown butter. The recipe will not only keep you full for a long time, but it will also maintain your energy level due to the high proteins in it.
Click here to see the full recipe.
*** Don't forget to pin this for later! ***
I have been on a keto diet for a long time and I have realized that gratification and simplicity is the main key to success with your diet. I am happy to suggest you these eBooks for the best keto result:
Dessert In Five
,
Dinner In Five
,
Lunch In Five
and
Breakfast In Five
.
Every eBook has 30 recipes. All the recipes have an average of 5g carbs and 5 ingredients at most. So you can enjoy a second meal at any time of the day and still do not exceed your carb limit. With a total 120 easy to make recipes, every recipe has the details of the nutrients included so you can eat tastily and stay informed about your carbs intake.
Click here to get the full Keto in Five e-bundle