6 Delicious Keto Breakfasts To Kickstart Your Day
Affiliate links may be used in this post. I may receive a small commission at no extra cost to you if you make a purchase through my affiliate link. Read my full disclaimer here
---
The low carb recipes in this article are easy to make for breakfast and are all keto-friendly. They'll kick off your day with a boost of energy so you'll be able to burn fat through the rest of the day.
Keto breakfasts usually contain bacon and eggs and so they can become quite repetitive in the long run. Most people on the keto diet eventually get bored of this food pattern of eggs and bacon. In this article, I have listed 7 keto-friendly breakfasts that are all unique so you don't get bored.
Each recipe here is perfectly aligned with the keto diet. That means that they have the right amount of fats, proteins and little or no carbs per serving.
Now prepare to be blown away by these awesome breakfast recipes.
Almond Cream Cheese Pancakes
At first, you would think that pancakes couldn't be included in your keto diet but I'm happy to tell you that there's a solution. These low carb pancakes are so good, you won't be able to tell them apart from the original high carb pancakes.
Sausage, Egg and Cheese Breakfast Scramble
Now, this is one filling keto breakfast. You can eat it over the course of a week. Just prepare it on a weekend, freeze it and heat it every morning across the week.
There are numerous ways to make this sausage scramble so you don't ever lose interest.
Now you can eat the same breakfast in different varieties so it feels new every time.
Low Carb Breakfast Pizza
This is for all the readers who find themselves eating cold pizza for breakfast when they have leftovers from last night.
This recipe will make you a mean keto pizza without leftovers and using very simple ingredients.
Low Carb Biscuits (Gluten-Free)
The fun part about these biscuits is that they are super easy to make. I mean, it only takes 5 minutes to mix all the ingredients up and then the rest is left to your oven.
If you like fresh, hot biscuits for breakfast then this is for you.
When I was just getting started on the keto diet, I wish I had these easy low carb recipe collections. If you're looking for easy and simple keto recipes, I recommend you to check this Keto in Five eCookbooks, every single recipe has five ingredients or less and five net carbs or less.
👉 Click here to get the full Keto in Five collection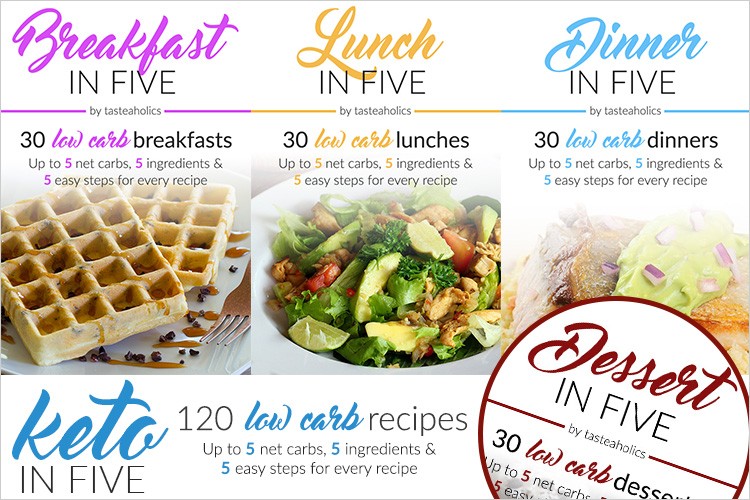 Bacon Egg & Cheese Roll-Ups
Here's a low carb breakfast recipe that's meant just for fans of bacon and cheese.
You can get this one done in 5 minutes so it's the go-to thing for busy mornings when you're in a hurry to grab a bite and head out.
Like the other recipes on this list, this one is healthy and well balanced. You can have it more than once a week if you please.
McMuffin & Egg Sandwich
This, in essence, is just a delicious, keto-friendly version of your regular McMuffin and Egg Sandwich.
This will fill you up and give you the boost needed to start your workday.
Avocado Bacon & Eggs
We all know that avocados are great sources of fat on the keto diet. Starting the day with fat bombs like these is the way to go.
Made with avocado, bacon, cheese, and eggs, this recipe will fill you up and start off your day with a bang. You'll also be getting all your essential vitamins and nutrients from this.
Extra: Keto Breakfast Pepper Rings
Tired of having eggs and bacon repeatedly? Are you looking for something else that is still keto-friendly? Well, now you have an alternative. This recipe is made from ground beef (or sausage), bell peppers, eggs, and cheese.
It will definitely be able to fill you up and keep you healthy as well as all the other low carb breakfasts in this article. And this time you have the option of changing your routine for some different.
Remember, diversity is important for any diet that you get on so that you don't end up getting bored of eating the same stuff repeatedly.
*** Don't forget to pin this for later! ***
I have been on a keto diet for a long time and I have realized that gratification and simplicity is the main key to success with your diet. I am happy to suggest you these eBooks for the best keto result:
Dessert In Five
,
Dinner In Five
,
Lunch In Five
and
Breakfast In Five
.
Every eBook has 30 recipes. All the recipes have an average of 5g carbs and 5 ingredients at most. So you can enjoy a second meal at any time of the day and still do not exceed your carb limit. With a total 120 easy to make recipes, every recipe has the details of the nutrients included so you can eat tastily and stay informed about your carbs intake.
Click here to get the full Keto in Five e-bundle