6 Cheap Keto Meals That Will Help You Lose Weight
Affiliate links may be used in this post. I may receive a small commission at no extra cost to you if you make a purchase through my affiliate link. Read my full disclaimer here
---
Sometimes having a special diet or meal plan is a little heavy on the budget as you need to have an extra list of ingredients for your diet. I a here to rid you of this problem as I have compiled a list that is not only very delicious to see and healthy to eat, but it is also very easy on the budget.
These complete meals will keep you and your wallet full anytime.
Easy Mozzarella and Pesto Chicken Casserole
Let me start this list by giving you a recipe that will take 2 dollars from your wallet, 5 minutes from your time and 5 ingredients already available in your kitchen and you will have a meal that can be used up twice as well.
Click here for the full recipe.
Keto Mushroom Omelet
Another crazy recipe that is not only super healthy but super affordable to make as well. With only 5 minutes in the kitchen, you can spend just half a dollar and get yourself a keto meal with pride.
Click here for the full recipe.
Mexican Zucchini and Beef Skillet
Now here is something very different from any other recipe for keto dieters that is not only very rich in fat and energy, but it is also very exotic in nature and costs only around a dollar.
With beef skillets in the ingredients topped off by Mexican zucchini, your whole family can have a great time by indulging in this flavor pool. Lots of vegetables and a high energy chart make this recipe a unique one.
Click here for the full recipe.
Cauliflower Calzone
Announcing the one-dollar pizza full of flavor and energy!
Cheese, pepperoni, and cauliflower make up the main ingredients of this superb pizza that can be made over and over for a very long time.
Click here for the full recipe.
When I was just getting started on the keto diet, I wish I had these easy low carb recipe collections. If you're looking for easy and simple keto recipes, I recommend you to check this Keto in Five eCookbooks, every single recipe has five ingredients or less and five net carbs or less.
👉 Click here to get the full Keto in Five collection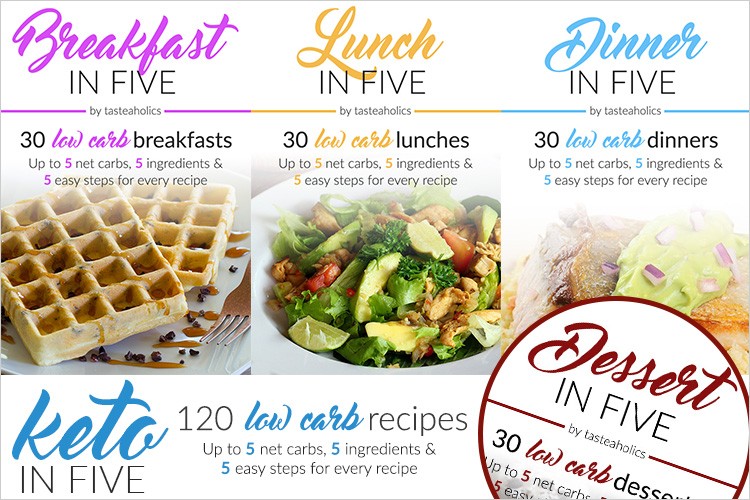 Enchilada Chicken
Here is a recipe that will cost less than a dollar, that will get you the flavor of chicken meat in its best possible way, and that will let you enjoy your ketosis meals in the most satisfying way. Introducing the Enchilada Chicken.
Click here for the full recipe.
Chicken Tenders Wrapped In Bacon
This recipe might sound cheap because of the budget but its ingredients make up a dish that is a treat for the taste buds. With chicken tenders and bacon as the main ingredients, you can expect a lot of flavor from this recipe when the rest of the ingredients are added to the mix. Amazingly, you will have to pay less than a dollar to get it cooked in your kitchen.
Click here for the full recipe.
Eggplant Lasagna
Here is another superstar dish making its way into the list with ketosis approved ingredients and wallet approved budget of a single dollar. The eggplant lasagna is actually pretty easy to make and no noodles in it. So you won't have to worry about fats and carbs.
Click here for the full recipe.
Sausage Egg Roll In A Bowl
Costing just a dollar for every serving, this keto recipe is actually pretty famous for family reunions where everyone wants to eat a lot but stay healthy at the same time. Having pork replacing ground meat and a few other tasty ingredients, you can easily make this recipe in your kitchen.
Click here for the full recipe.
*** Don't forget to pin this for later! ***
I have been on a keto diet for a long time and I have realized that gratification and simplicity is the main key to success with your diet. I am happy to suggest you these eBooks for the best keto result:
Dessert In Five
,
Dinner In Five
,
Lunch In Five
and
Breakfast In Five
.
Every eBook has 30 recipes. All the recipes have an average of 5g carbs and 5 ingredients at most. So you can enjoy a second meal at any time of the day and still do not exceed your carb limit. With a total 120 easy to make recipes, every recipe has the details of the nutrients included so you can eat tastily and stay informed about your carbs intake.
Click here to get the full Keto in Five e-bundle