8 Awesome Keto Dinners You Need To Make Tonight
Affiliate links may be used in this post. I may receive a small commission at no extra cost to you if you make a purchase through my affiliate link. Read my full disclaimer here
---
Following a keto meal plan doesn't always have to be hard. If you use some of these easy and quick dinner recipes you'll be done cooking in less than 30 minutes.
We all love to eat delicious food but we get discouraged if it takes too long to get ready. It's true, meals that taste great but take 4 hours to get ready are not your first option in any situation. So why not use these recipes to prepare a great meal in half an hour and keep the 4-hour meals for special occasions.
Yes, meals that require a lot of preparation and 4 hours in the kitchen taste great, but… couldn't you just make a great meal in 30 minutes, and reserve these 4-hour preps for special occasions?
Luckily, this article has recipes for you so you can make great ketogenic dinners in less than 30 minutes. With these recipes, you can enjoy your weekends instead of spending all that time in the kitchen.
Creamy Tuscan Garlic Chicken
This Creamy Tuscan Garlic Chicken is covered in the best sauce ever and has a lot of healthy veggies.
This is a healthy meal that gets ready in 30 minutes so it's perfect to start this list.
You can serve it like that or top it with miracle noodles or zucchini noodles.
Low Carb Cheese Breadsticks
You might think that you have to forfeit breadsticks when you get on the keto diet, but you're wrong. There are low carb keto breadsticks like this one that is made with almond and coconut flour, mozzarella, cream cheese, and parsley as a topping.
Although it's slightly softer in texture than bread, it still tastes great. The combination of keto flour and cheese makes you feel like you're eating fatty bread but it's actually low on carbs.
Chicken Cordon Bleu Casserole
This delicious ketogenic Cordon Bleu casserole is quite simple to prepare. Just throw in the ingredients in a baking dish and put it in the oven.
This will make your whole family say "thank you for this awesome meal". They don't need to know that it took you only 2 minutes to prepare it.
Keto Chicken Lettuce Wraps
When I was just getting started on the keto diet, I wish I had these easy low carb recipe collections. If you're looking for easy and simple keto recipes, I recommend you to check this Keto in Five eCookbooks, every single recipe has five ingredients or less and five net carbs or less.
👉 Click here to get the full Keto in Five collection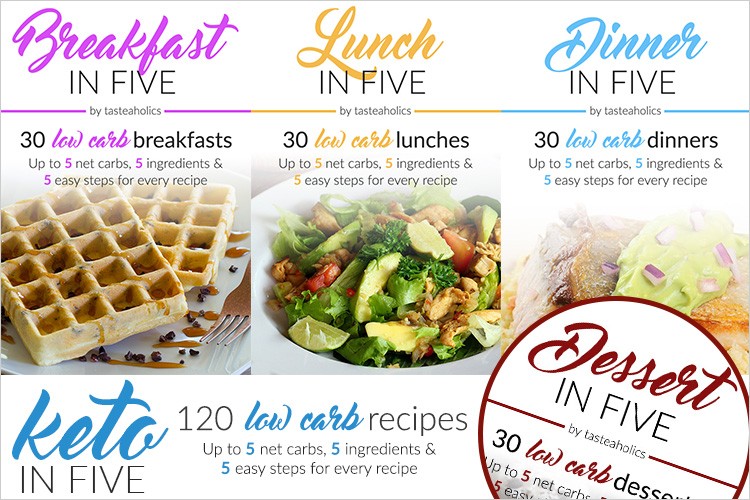 Lettuce wraps are easy and quick so they'll come in handy when you're busy. And they make you eat your greens. So you always stay healthy and lose that extra weight.
This recipe is low in carbs and it tastes great so you should really consider trying them out whenever you don't have time to cook.
Lemon Garlic Butter Shrimp with Asparagus
This magnificent garlic butter shrimp recipe dished with asparagus and cauliflower rice to get a delicious blend of food that is easy to prepare for keto dinners.
A total of 15 minutes is all it takes to make this healthy and delicious meal.
Taco Stuffed Avocados
Whi ever thought of using avocados instead of taco shells? Well, we did! Not only is this meal ketogenic, it is filled with fats so you can have it to catch up on all your fats.
It's so good, it could be the best taco recipe on the keto meal plan.
Loaded Cauliflower
Now, on the topic of veggies, this is probably the healthiest diet you can have on the keto meal plan. This cheese and cauliflower recipe is filled with all the protein and fat you'll need, plus, it has virtually no carbs.
So consider this when you haven't had your greens in a while.
*** Don't forget to pin this for later! ***
I have been on a keto diet for a long time and I have realized that gratification and simplicity is the main key to success with your diet. I am happy to suggest you these eBooks for the best keto result:
Dessert In Five
,
Dinner In Five
,
Lunch In Five
and
Breakfast In Five
.
Every eBook has 30 recipes. All the recipes have an average of 5g carbs and 5 ingredients at most. So you can enjoy a second meal at any time of the day and still do not exceed your carb limit. With a total 120 easy to make recipes, every recipe has the details of the nutrients included so you can eat tastily and stay informed about your carbs intake.
Click here to get the full Keto in Five e-bundle