8 Best Keto Cauliflowers Recipes For Faster Weight Loss
Affiliate links may be used in this post. I may receive a small commission at no extra cost to you if you make a purchase through my affiliate link. Read my full disclaimer here
---
As far as keto-friendly vegetables go, the cauliflower is your best bet. And cauliflower helps you lose weight faster than most other veggies, so you should have some delicious keto cauliflower recipes more often, for dinner or lunch.
Even kids are huge fans of these recipes – they taste Wonderful!
Keto Cauliflower Mac & Cheese
Macaroni and cheese are unacceptable in keto diets, but you can swap the macaroni for a veggie and have cauliflower and cheese instead.
This particular recipe is rich in all the nutrients needed to stay in ketosis and help you lose weight. And on another plus side, it tastes delicious and you'll be looking forward to it. Even the kids will adore this one.
Bacon Cheeseburger Cauliflower Casserole
Do you want to prepare a casserole that would taste pretty much like a cheeseburger? Or maybe use some veggies to replace the high carb bread and get a healthy meal? Well, this recipe has you covered with extra cheese.
And your kids will love this one.
The Best Cauliflower Mash Ever
Cauliflower mash recipes are all over the Internet but they all pale in comparison to this one. With this recipe, you get a mash with the perfect texture. It's so rich, thick and incredibly delicious, quite surprising for a veggie mash.
Keep in mind that if you don't like this cauliflower mash, don't bother looking for another recipe; Cauliflower mash just isn't your thing
This recipe is the best, period.
Mexican Cauliflower Rice
If you enjoy Mexican delicacies, then Mexican style Cauliflower rice is just for you.
This recipe gives you a meal that is very close to Mexican rice and this one is keto-friendly.
By using generic Mexican ingredients like jalapeñoes, bell peppers, and coriander, this recipe gives you a low carb cauliflower meal that tastes much better than what you'd expect from the so-called "healthy" food.
When I was just getting started on the keto diet, I wish I had these easy low carb recipe collections. If you're looking for easy and simple keto recipes, I recommend you to check this Keto in Five eCookbooks, every single recipe has five ingredients or less and five net carbs or less.
👉 Click here to get the full Keto in Five collection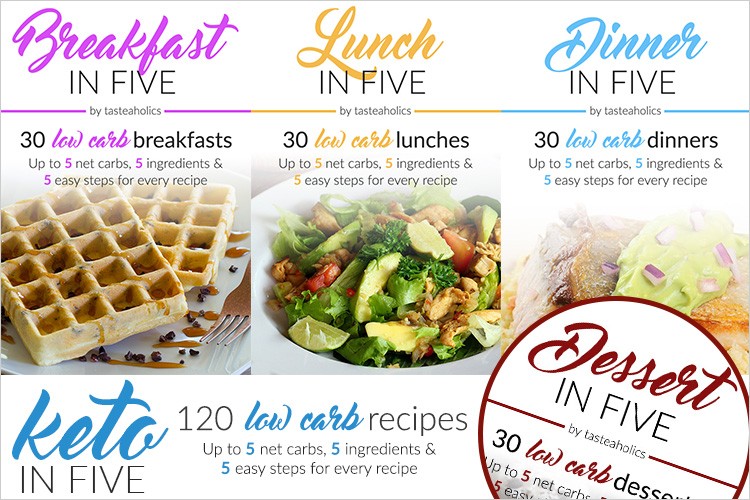 Low Carb Loaded Cauliflower
This is a keto-friendly meal made with cauliflower, butter, cheddar cheese, and some bacon. This gives a delicious, high fat and Ketogenic recipe for meals.
This recipe involves enhancing the traditional cauliflower mash by adding healthy doses of cheese and bacon. Fetching you an extremely tasty cauliflower mash.
Cauliflower Crusted Cheese Sandwiches
During your keto diet, you might find yourself missing a nice grilled cheese sandwich.
Well, this cauliflower crusted cheese sandwich recipe will ensure you get a healthier version of the good old' sandwich by replacing the bread and adding lots of veggies to make this super keto-friendly.
You won't believe that cauliflower could be that good.
Cheesy Baked Cauliflower Tots
Do you find yourself hungry in the middle of the day and need a quick snack filled with cheese that will balance your essential nutrients?
Well, you're in luck. With these keto-friendly cauliflower tots, you'll be munching down on a delicious cheesy flavor with a crunchy crust.
*** Don't forget to pin this for later! ***
I have been on a keto diet for a long time and I have realized that gratification and simplicity is the main key to success with your diet. I am happy to suggest you these eBooks for the best keto result:
Dessert In Five
,
Dinner In Five
,
Lunch In Five
and
Breakfast In Five
.
Every eBook has 30 recipes. All the recipes have an average of 5g carbs and 5 ingredients at most. So you can enjoy a second meal at any time of the day and still do not exceed your carb limit. With a total 120 easy to make recipes, every recipe has the details of the nutrients included so you can eat tastily and stay informed about your carbs intake.
Click here to get the full Keto in Five e-bundle