8 Keto Mug Cakes You Can Make In 5 Min
Affiliate links may be used in this post. I may receive a small commission at no extra cost to you if you make a purchase through my affiliate link. Read my full disclaimer here
---
Mug cakes are everyone's favorite when it comes to quick desserts and they can get even more tempting if the ingredients are all ketosis approved.
With low carbs and high proteins, here is a list of such delicious and healthy mug cakes is here with easy recipes that you can make at your home within minutes.
Whipped Cream With Chocolate Mug Cake
With a moist, tasty and deep texture of chocolate, this mug cake is one of the easiest solutions for your chocolate cravings. Within minutes, you can treat yourself with ketogenic healthy and chocolate cake in a mug.
The dessert has 5.9 grams of carbs, 12 grams of proteins, 37 grams of fat and around 400 calories.
Click here for the full recipe.
Mug Cake With Chocolate Chip and Peanut Butter
Besides having a creamy and delicious flavor and texture, this mug cake is also free of gluten, sugar, and grains.
Also, this low carb recipe provides a lovely taste and satisfies your hunger for chocolate as well.
The peanut butter in the mix fills your belly and stops you from craving for anything else.
This delicious recipe has around 3.7 grams of carbs, 6.4 grams of proteins, 18 grams of fat and about 200 calories.
Click here for the full recipe.
Reese's Lava Cake
If you have a love for chocolate and peanut butter, this mug cake is just for you. As the name suggests, there is molten peanut butter on the inside of the cake which is covered in dark solid chocolate.
This recipe has about 3.5 grams of carbs, 10 grams of proteins, 32 grams of fat and around 366 grams of calories.
Click here for the full recipe.
Keto Mug Cake With Cinnamon
Here is a keto mug cake with so much fat that you can consider it as a fat bomb.
Cinnamon flavored mug cake has the lowest amount of carbs and amazingly it can be made within 5 minutes.
When I was just getting started on the keto diet, I wish I had these easy low carb recipe collections. If you're looking for easy and simple keto recipes, I recommend you to check this Keto in Five eCookbooks, every single recipe has five ingredients or less and five net carbs or less.
👉 Click here to get the full Keto in Five collection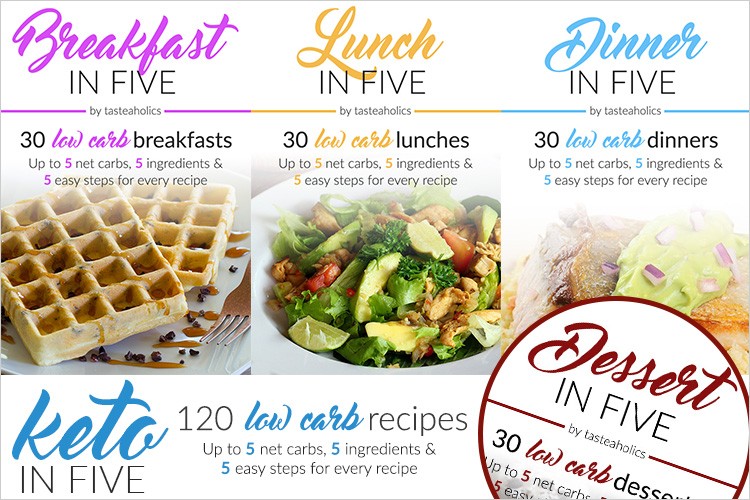 The amount of carbs in this recipe is 3.9 grams. 11.8 grams of proteins, 28.6 grams of fat and about 333 grams of calories are there for you.
Click here for the full recipe.
Pumpkin Pie Keto Mug Cake
Pumpkin lovers, we have you covered. Using the least amount of simplest ingredients, you can make this pumpkin-flavored ketogenic mug cake in a jiffy.
The delicious mug cake has about 3.8 grams of carbs, 8.9 grams of proteins, 10.8 grams of fat and about 157 calories.
To make two servings of this mug cake, click here.
Lemon Flavored Keto Mug Cake
This special mug cake is a result of so many different experiments with keto ingredients. You can clearly taste the hard work that has been put into making this delicious marvel.
With a pinch of unnoticeable coconut flour and lemon flavor clear in the background, this mug cake is a gift for everyone.
Click here for the full recipe.
Keto Mug Cake With Raspberry Vanilla
This recipe is unique from all the previous ones. The main reason is it does not involve chocolate, instead, it offers an equally tasty alternative – berry and vanilla.
This mug cake will make you reminisce summer vibes and you can even replace the raspberries with blueberries. It's a lovely keto mug cake for your oven activities.
Click here for the full recipe.
*** Don't forget to pin this for later! ***
I have been on a keto diet for a long time and I have realized that gratification and simplicity is the main key to success with your diet. I am happy to suggest you these eBooks for the best keto result:
Dessert In Five
,
Dinner In Five
,
Lunch In Five
and
Breakfast In Five
.
Every eBook has 30 recipes. All the recipes have an average of 5g carbs and 5 ingredients at most. So you can enjoy a second meal at any time of the day and still do not exceed your carb limit. With a total 120 easy to make recipes, every recipe has the details of the nutrients included so you can eat tastily and stay informed about your carbs intake.
Click here to get the full Keto in Five e-bundle