20 Tasty Keto Dinner Recipes For Rapid Weight Loss
Affiliate links may be used in this post. I may receive a small commission at no extra cost to you if you make a purchase through my affiliate link. Read my full disclaimer here
---
Ketosis is getting famous all over the world and thanks to different surveys conducted every now and then, there are different ingredients continuously being discovered that are keto-approved.
There are different meals for ketogenic plans and dinners are part of those meals. Today I am going to discuss a thread of articles that consist of around 21 recipes for dinners that are completely keto-approved and at the same time, very tasty.
Taco Pie With No Crust
If you are not in a hurry and want to prepare a treat for yourself, here is something very special. You can make yourself this amazing pie without any crust and still enjoy the keto-approved ingredients.
The recipe has taco seasoning, salsa, cheese, and beef. In around 35 minutes you can have a delicious ketosis meal that you can have every day for a long time.
Click here for the full recipe.
Keto Crack Chicken In Crock Pot
Here is something I personally love whenever it comes to quick recipes and tasty flavors. This keto-approved meal will allow you to put all the ingredients into the crockpot and let it do its magic.
It even gets better when you get a handsome quantity of meal in a single batch, so you can use it over and over again and it won't lose its flavor either.
Click here to see the full recipe.
Mushroom Sauce And Chicken Thighs
Have you ever wondered how your family has always spent so much time on deciding what their collective favorite meal could be?
Here is a simple answer. This one!!!
The recipe has everything a family needs. From parmesan cheese to heavy cream, from chicken thighs to mushrooms, everything is here and amazingly it does not take up much effort in preparing.
Click here to see the full recipe.
Brazilian Steak With Garlic Butter
This steak recipe has actually every good thing about a recipe there could be. It is quick to make (Only 5 minutes). It has an amazing flavor (It's a steak !!!!). It requires no special skills in the kitchen (warm up the stove and go).
If you are still wondering how it is made, click here to see the full recipe.
Click here for the full recipe.
Keto BBQ Pulled Pork Pizza
If you are a kitchen enthusiast and want to impress your friends with your cooking skills and also want to eat something nutritious and keto-approved, this pizza is going to be your masterpiece.
The low carb ingredients make it a healthy choice and the rich texture of the pizza makes your time in the kitchen totally worthwhile.
It might take you a little more than just 5 minutes but the end product is going to get your name on the wall of fame. 😉 If you know what I mean.
Click here to see the full recipe.
Skinny Shrimp Scampi with Zucchini Noodles
This recipe is a famous alternative for different kinds of meat and is widely liked by children as well. With zoodles in the mix and other keto-approved ingredients, you will be amazed at the flavor it develops once you follow the recipe.
Click here to see the full recipe.
Low Carb Meatball Subs
If you are a person who does not want to spend most of the time in the kitchen and making different dishes for home and office, I have an amazing offer for you. This keto-approved recipe will not only allow you to burn through your extra fats, but it will also let you feast on a delightful and famous meal. Meatball subs!!!!
This recipe provides an alternative ingredient list for the same quality and taste of meatball subs with very low carbs. It has mozzarella dough which has a very rich texture when put through the recipe and is nearly similar to the real recipe.
Click here to see the full recipe.
Hamburger Steak Gravy
There is a big chance that the title of the recipe might sound very basic and even boring to some readers but believe me, it is nothing like that. The list of ingredients has some powerful punches like onion sauce, mushrooms, and so many yummy condiments.
The recipe will not keep you in the kitchen for more than 30 minutes and amazingly, the servings it makes is enough for you to use twice. It is healthy, tasty, easy to make and very nutritious.
click here to see the full recipe.
Keto Shepherd's Pie
As the name suggests, a regular pie is made with a savory flavored gravy, some vegetable and – you guessed it right – lamb meat.
To get yourself the keto version of this tasty cuisine, replace the potato with cauliflower and make it healthier and tastier both at the same time.
You do not need to make any add-ons for the meal and all you have to do now is click here to see the full recipe.
Keto Fried Chicken Tenders
If you are a strict observer of the keto diet and do not break any law, you deserve a special treat. I am sure you miss the amazing chick-a-fill and might even sometimes dream of eating it with a full belly. I am happy to tell you that I have found the perfect alternative for the meal and it is almost as tasty as the real deal.
The texture, flavor, and feeling are so real that you will never miss hanging out at the restaurant and waiting for it. You can make it right there in your kitchen.
Click here to see the full recipe.
Easy Shrimp Avocado Salad with Tomatoes
I am sure sometimes you wish to just sit on the sofa and eat something that is both nutritious enough to keep you healthy and full and at the same time it is tasty as hell and lets you enjoy your long summer days.
I have a recipe that is not only going to satisfy the above-mentioned requirements, but it will also allow you to enjoy yourself while you are eating it. This salad recipe is actually having a refreshing and crunchy touch to it which can be a real treat in hot summers.
Click here to see the full recipe.
When I was just getting started on the keto diet, I wish I had these easy low carb recipe collections. If you're looking for easy and simple keto recipes, I recommend you to check this Keto in Five eCookbooks, every single recipe has five ingredients or less and five net carbs or less.
👉 Click here to get the full Keto in Five collection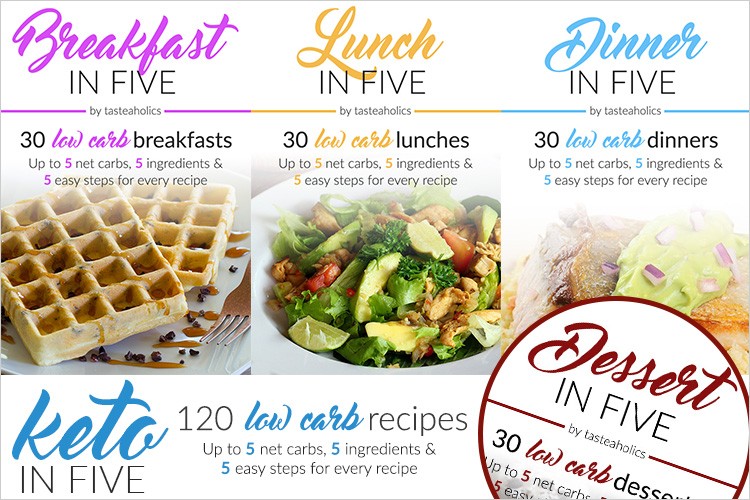 Taco Stuffed Avocados
As the name suggests, the ingredients are a child magnet and when the keto-approved method kicks in, you will have yourself a very nutritious and easy to make the recipe right at your home.
Click here to see the full recipe.
Loaded Cauliflower
I must say, I had no idea that cauliflower will be so tasty and useful in ketosis. The recipe replaces potatoes in loaded potatoes meal and it is totally worth it because it tastes even better than the original one and is high in fats a well so it will keep you full for a longer time.
Click here to see the full recipe.
Baked Bacon Wrapped Chicken Tenders
There is not much explaining here because the name has all the ingredients that are bacon, chicken tenders and five minutes in the kitchen. Go through the easy recipe and treat yourself with this delightful recipe.
Click here to see the full recipe.
Low Carb Cheeseburger And Gluten-free Big Mac Salad
This recipe has magic in it. It allows you to have a Big Mac, Cheeseburger Salad and yet stay in your ketosis. With the keto-approved ingredients, this salad is really close to the original one in taste and you won't regret making it at your home.
Click here to see the full recipe.
Spicy Shrimp and Broccoli Mash
As the name suggests, the recipe has an amazing mix of spices and vegetables in a healthy way. The amount of flavor and vitamins with proteins is through the roof and yet the time taken to make this recipe is unbelievable.
Click here to see the full recipe.
Salmon Patties With No Eggs
I know you love salmon patties but sometimes you are not a fan of the eggs. You will be happy to know that I have found a recipe that will not only allow you to get rid of the eggs, but it will also keep you on your ketosis with the flavor still intact.
Click here to see the full recipe.
Instant Pot Pulled Pork
Broccoli makes it again to our list and this time with a new partner – Low Carb Beef!!!
With a juicy tender touch, the keto-approved ingredients in the recipe is a mouth-watering delight for all ketosis dieters.
Click here to see the full recipe.
Low Carb Beef and Broccoli Stir-Fry
You will fall in love with this recipe at the first bite. The rich texture comes with amazing flavors of cream, spinach, garlic, and chicken. You can even play around with the flours in the recipe and add in some miracle noodles.
Click here to see the full recipe.
Creamy Tuscan Garlic Chicken
Here is another recipe for scampi shrimp but with different ingredients. The touch of noodles changes the entire feeling of the meal. You will be happy to see that the taste is totally different and new.
Click here to see the full recipe.
Keto Shrimp Scampi
I have a recipe from across borders and with a very different set of ingredients. The flavor and nutrition value of the meal is not compromised on and you will be happy to see a chicken in a keto-approved and new way.
Click here to see the full recipe.
Low Carb Jamaican Curry Chicken
This dinner recipe will entertain your guests in a way they have never seen before. The ingredients of the recipe are so unique that you will be asked several times how you came up with them. The keto-friendly nutritious values will allow you to eat as much as you want and yet stay healthy and fit all while looking elegant in front of your guests.
Click here to see the full recipe.
Crispy Slow Cooker Carnitas (Mexican Pulled Pork)
This recipe has a unique touch of Mexican cuisine combined with some slow cooker time. The elegance of the dinner recipe goes side by side with the ketosis importance for a dieter. To see how you can easily make this recipe.
Click here to see the full recipe.
Keto Chinese Pork with Brussels Sprouts
Last but not least, I have a Chinese cuisine recipe on the list and you will be happy to know that it is a blessing for Asian dieters. This super delicious and super easy to make recipe can be prepared in a very short amount of time.
 Click here to see the full recipe.
I hope you liked this streak of dinner recipes for ketosis dieters. Do let me know how you feel about the recipes in the comments section.
*** Don't forget to pin this for later! ***
I have been on a keto diet for a long time and I have realized that gratification and simplicity is the main key to success with your diet. I am happy to suggest you these eBooks for the best keto result:
Dessert In Five
,
Dinner In Five
,
Lunch In Five
and
Breakfast In Five
.
Every eBook has 30 recipes. All the recipes have an average of 5g carbs and 5 ingredients at most. So you can enjoy a second meal at any time of the day and still do not exceed your carb limit. With a total 120 easy to make recipes, every recipe has the details of the nutrients included so you can eat tastily and stay informed about your carbs intake.
Click here to get the full Keto in Five e-bundle